September 04, 2014 -
Dave Miller
Florida State reportedly investigating Winston
The threat of a suspension for defending Heisman Trophy winner Jameis Winston could linger over the Florida State football program for awhile, as Rachel Axon of USA Today is reporting that the school is investigating the signal-caller in relation to the alleged rape of an FSU student in 2012.
John Clune, a Title IX attorney representing the woman, told Axon that school officials interviewed the alleged victim in early August for the first time since she reported the alleged assault to police in December 2012. Clune said the school assured them that the Title IX process would move forward.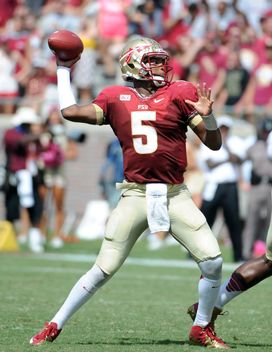 US PRESSWIREJameis Winston is being investigated by Florida State and could face code of conduct charges.
Title IX mandates that schools investigate cases of sexual harassment and violence regardless of the outcome of any criminal investigation. When the criminal investigation around this matter took place, Winston said through his lawyer that he believed the sexual encounter was consensual. Following a three-week investigation, the Florida State's Attorney office announced that there wasn't enough evidence to prove that the encounter was not consensual, so no charges were filed against Winston.
Besides the alleged victim, Clune said officials from the school also interviewed two other people but that it is unknown if Winston was one of the subjects. Florida State had not met with Winston about the alleged incident until this past January, more than a year after the alleged assault took place.
"We expect that there will be code of conduct charges that will be brought," Clune said. "There's no basis not to bring those charges now."
An investigation of how FSU handles sexual assaults was opened in April when the woman filed a complaint with the Department of Education's Office for Civil Rights. That investigation continues.
On Wednesday, FSU began an initiative called kNOw MORE to prevent and address sexual assaults on campus.
We certainly haven't heard the last of this case, and so the potential of a Winston suspension does loom over a 'Noles squad expected to be one of the top contenders for the inaugural College Football Playoff. If he's found to be in violation of the school's code of conduct, Winston could face punishment that ranges from expulsion to probation and a verbal reprimand. Title IX investigations are not expected to take longer than 60 days, according to the Department of Education's Office of Civil Rights.
Dave Miller, the college football editor for the National Football Post, is on Twitter @Miller_Dave.