March 21, 2011 -
Dave Miller
Florida State spring practice preview
Jimbo Fisher has already had a tremendous offseason after putting together arguably the top recruiting class in 2011. Now, the Florida State head coach will look to continue to build on that momentum when the Seminoles open up spring practice on Monday.
Let's take a look at some of the key storylines for FSU entering spring camp.
Florida State (10-4, 6-2 ACC)
Pondering the quarterback situation
With Christian Ponder preparing for the next step in his football career, all eyes turn to E.J. Manuel. The 6-5, 230-pounder will assume the starting duties under center for the 'Noles after finally being healthy and ready for spring drills for the first time in three seasons. While he will be entering his first season as the starter, Manuel has a vast amount of experience filling in for Ponder when he battled his own health issues the last few seasons. The humble 21-year-old even led FSU to victories in the Gator Bowl two seasons ago, when he accounted for 259 yards and a touchdown, as well as last year's Chick-fil-A Bowl.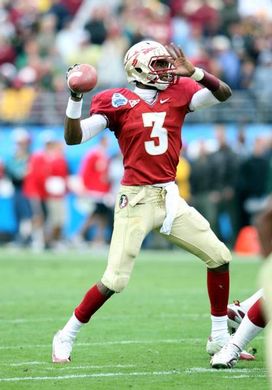 ICONE.J. Manuel takes over under center for the Seminoles.
Manuel ended his 2010 season completing 70 percent of his passes for 861 yards with four touchdowns and four interceptions. Not only has his playing experience prepared him for his new role as the full-time starter, but Manuel also has a tireless work ethic that should be the envy of his teammates. His desire to improve and play up to the expectations bestowed upon him should bode well for the 'Noles. Certainly, we'll find out just how well-prepared Manuel is for the gig when FSU plays Oklahoma on Sept. 17 — the same Sooners squad that smoked the 'Noles 47-17 in 2010.
A year wiser under Stoops
Mark Stoops is one lucky man. When you have the luxury of building a defense with the talent that the coordinator has in Tallahassee, life is just that much easier. The second-year assistant received a dominant season out of defensive lineman Brandon Jenkins in 2010, and junior college transfer Cornellius Carradine could join Jenkins as another dominant force in the front four. The hard-working, 258-pound defensive end can stop the run and rush the quarterback. Kendall Smith and Mister Alexander are gone from the linebacker corps, but Nigel Bradham returns to a unit that has some depth. Rising sophomores Christian Jones and Telvin Smith will compete for starting gigs and could emerge this spring as the frontrunners. And cornerback Greg Reid will now be looked upon to be the leader of the entire defense without Markus White and Smith. While the secondary will be thinned due to injuries this spring, it is deep and not light on talent.
The question marks
Can the offensive line replace All-American left guard Rodney Hudson and center Ryan McMahon, who were the strengths of that unit as four-year starters? The line will also look different this spring with starting tackles Andrew Datko and Zebrie Sanders sitting out while recovering from injuries.
Also, will Manuel get consistent play out of his receivers? Rising juniors Willie Haulstead and Rodney Smith didn't quite develop as the staff had hoped, and Bert Reed didn't really emerge as a go-to receiver. Can Kenny Shaw, Scooter Haggins and Christian Green push the veterans and steal a starting job or two?
Managing the expectations
In his first season as the leader of the 'Noles, Fisher swept in-state rivals Florida and Miami, advanced to the ACC title game and defeated a South Carolina squad that won the SEC East. Obviously, the expectation is that the team can continue to trend upward, especially because it returns 18 starters from last year's team — the most in the league. While overconfidence is always something a team has to guard against, that doesn't seem like it will be too much of a factor in Tallahassee next season. Players have been going through a dedicated offseason strength and conditioning program designed by the coaches, and the entire program seems to be focused on not being content with what they have accomplished thus far under Fisher's leadership. Still, an early-season test against Bob Stoops' squad will set the table for the rest of 2011.
Note: The Seminoles will conduct their annual spring game on April 16.
Email dave.miller@nationalfootballpost.com or follow me on Twitter at Miller_Dave