April 17, 2013 -
Dave Miller
Focus now on Hill at BYU
BYU released its final spring depth chart last week, and Taysom Hill was atop the list as the starting quarterback despite not participating in the team's spring game.
"We have named Taysom the starter because of his game experience in 2012, strong leadership qualities and his breakaway speed and athleticism," BYU head coach Bronco Mendenhall said in a news release.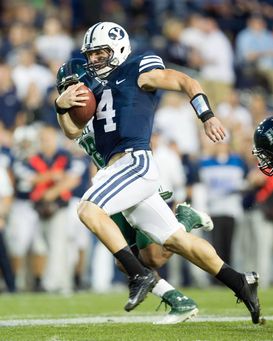 US PRESSWIRETaysom Hill will have a chance to start for a full season at BYU.
Hill nudged out fellow sophomore Ammon Olsen for the starting gig in Provo. Snow College transfer Christian Stewart is No. 3 on the depth chart.
The 6-2, 218-pound Hill, who is a former Stanford commit, was a spark plug for the Cougars last season when inserted into the lineup as a true freshman, as his dual-threat capabilities added some much-needed dynamicism to the BYU offense. He threw for 425 yards and rushed for 336, recording eight touchdowns in parts of six games before a lateral collateral ligament injury against Utah State shelved him for the rest of the season. Against the Aggies, he had passed for 235 yards and rushed for 80 in a 6-3 win.
Mendenhall expects Hill to be 100 percent healthy in the fall, and BYU fans have to be excited about the offense with the dual-threat QB under center for a full season.
While the Cougars will lose the leadership of the departed Riley Nelson, Hill has a lot of confidence and uncanny maturity for a young player that will serve the offense well. The one question that surrounds Hill moving forward is whether the mobile QB will play a bit smarter coming off of his injury, as he took a lot of shots from defenders last year when he was on the run.
The other aspect of his game that will be scrutinized all season is his accuracy and whether he can make all of the necesaary throws from the pocket, especially when his first read is unavailable. There's no reason to think he can't continue to develop as a passer, but having the starting gig from the beginning of the season will warrant a lot more scrutiny.
But with his good deal of confidence, Hill likely will relish the spotlight.