December 27, 2010 -
Dave Miller
For Iowa, focus finally shifts back to the field
To say that the 2010 season for the Iowa Hawkeyes has been a disappointment would be an understatement.
With most of its best players returning from a team that imposed its will over ACC champion Georgia Tech in the Orange Bowl last season, Iowa was positioned to not only make a run at the Big Ten title but also compete for a national championship.
But the year began to sour in the desert heat of Tucson, Ariz., where the Hawkeyes looked unprepared from the opening kickoff and eventually wilted against Arizona in the third week of the season.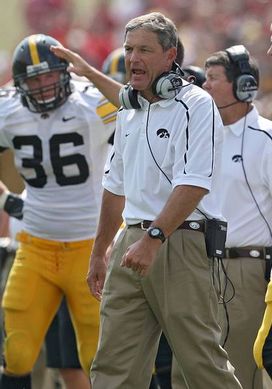 ICONKirk Ferentz and the Hawkeyes look to close out 2010 on a winning note.
Still, with the Big Ten championship and a trip to the Rose Bowl at stake, Iowa had the veteran leaders in place to right the ship and make the season memorable.
But poor special teams play, a sometimes less-than-stout run defense and at least one questionable clock-management issue led to emotionally draining losses in close games — the same tight contests the Hawks were victorious in during the '09 campaign.
Iowa blew fourth-quarter leads in all four of its conference losses and gave up late touchdowns in all five of its defeats. The football gods certainly had turned their attention elsewhere. And it wasn't exclusive to the regular season, either.
Iowa's bad luck extended past the loss to Minnesota in the finale, as receiver Derrell Johnson-Koulianos — the school's career leader in receptions and receiving yards — was arrested on multiple counts of possession of controlled substances, keeping a drug house and two counts of unlawful possession of a prescription drugs. The first-team all-Big Ten selection carved up defenses for 745 yards and 10 TDs this season.
Then, the team's rushing attack — long a source of consistent production — was dealt a major blow when head coach Kirk Ferentz suspended starting running back Adam Robinson for the bowl game. Robinson's absence leaves true freshman Marcus Coker, who has rushed for 403 yards in six games, as the only legitimate option in the running game. Jewel Hampton, who was already out for the year with a torn left ACL, is transferring from the program while Brandon Wegher, who had an Iowa freshman-record eight rushing touchdowns last season but did not play in 2010, requested his transfer on December 10.
After all of the off-the-field drama — which included message board rumors of sweeping suspensions throughout the team following the DJK arrest — Iowa now must return to the playing field against a 10-win Missouri team from the Big 12.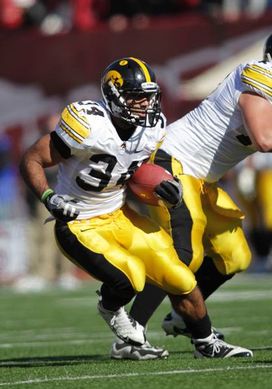 ICONMarcus Coker will carry the load in the Iowa backfield against Missouri.
Certainly the biggest question for the Hawkeyes against the Tigers is their ground game, as Coker will be asked to carry the load against a defense that ranks No. 6 in scoring and held Oklahoma and Texas A&M to under 100 yards rushing. However, Mizzou let San Diego State freshman star Ronnie Hillman run for 228, Nebraska's Roy Helu Jr. rumble for 307 and Kansas State backup quarterback Collin Klein log 141 yards on the ground. So the Tigers certainly have been inconsistent against the run. The question is whether the Hawkeyes will be balanced enough on offense to open up some lanes for Coker.
And that leads us to quarterback Ricky Stanzi, who finished second in the Big Ten and 11th in the nation with a pass efficiency rating of 160.5. He threw just four interceptions, the fewest for an Iowa signal caller since Brad Banks tossed just five in 2002, and his 26 touchdown passes are third on Iowa's single-season list. He completed nearly 65 percent of his throws for 2,804 yards, and he was a semifinalist for the Maxwell Award and the Davey O'Brien Award.
But can the senior, in midst of a three-game losing streak, end his college career on a winning note without his best receiver?
It helps that he'll still have Marvin McNutt, who actually had better numbers than DJK this season with the exception of two fewer scores. Tight end Allen Reisner will remain a top option for Stanzi, as well, and seniors Colin Sandeman and Don Nordmann, along with sophomore Keenan Davis and freshman Don Shumpert, will also help fill DJK's void.
Iowa will be looking to send its senior class out with a victory while attempting to win three consecutive bowl games for the first time in team history (on five occasions the Hawkeyes have won two straight postseason contests). Funny note: despite being border states, Iowa and Missouri haven't played since 1910.
When the Hawkeyes arrived in Tempe last week, the players maintained that all of the focus would be on beating Missouri with the players who were on that plane — and not on anyone no longer associated with the program. It's been clear this season that Iowa has missed linebackers Pat Angerer and A.J. Edds, as well as cornerback Amari Spievey — three NFL draftees. Now we will find out how much the team misses its best receiver and its starting running back.
Email dave.miller@nationalfootballpost.com or follow me on Twitter at Miller_Dave