November 07, 2011 -
Dave Miller
For Joe Pa, the time is up
The man who has the most wins of any head coach in Divsion I college football history should not get the chance to return to the sideline — or, in his case, the press box — for the 2012 season.
Penn State's Joe Paterno may have reported his knowledge of former defensive coordinator Jerry Sandusky's inappropriate locker room behavior — relayed to Paterno by then-graduate assistant and current wide receivers coach Mike McQueary, who discovered a criminal act taking place in Penn State's football locker room — to athletic director Tim Curley in 2002. But the longtime face of the program had an obligation to make sure Sandusky never had the opportunity to act in a predatory way ever again.
High-ranking officials at the school essentially dismissed the rape of a child as unimportant by not calling the police. And when his superiors ultimately didn't pursue the matter, the inaction of Paterno — who has done so much good for the community during his Penn State tenure — stains his once-pristine career.
When Pennsylvania attorney general Linda Kelly said Monday that the Sandusky investigation is ongoing, she noted that Paterno is "not regarded as a target at this point." For Joe Pa, this has nothing to do with legality. He obeyed the law by relaying the knowledge of sexual assault to his superiors.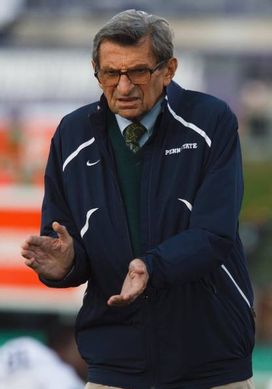 ICONNo coach has been the face of a university more so than Penn State's Joe Paterno.
However, Paterno is The Pennsylvania State University because of his nearly five decades in State College. And while he may have legally done the right thing, this has everything to do with morality. And that's something that comes into serious question when considering that the Nittany Lions icon didn't utilize his power when it was so desperately needed.
State College can never be "Happy Valley" again, not after a former defensive coordinator who is charged with 40 child sex crimes was essentially allowed to continue to prey on minors.
Worse yet about the act witnessed by McQueary is the fact that it took place four years after Penn State Police caught Sandusky showering with two children in the same locker room.
The entire Penn State administration — including Paterno, who wasn't charged in the case and who didn't appear to be implicated in the grand jury report — did not do enough to try to stop future actions of Sandusky when they were first notified of initial wrongdoing.
Pennsylvania police commissioner Frank Noonan echoed those sentiments on Monday, noting that Paterno fulfilled the legal requirement by reporting suspected abuse but that "somebody has to question about what I would consider the moral requirements for a human being that knows of sexual things that are taking place with a child."
"I think you have the moral responsibility, anyone," Noonan said. "Not whether you're a football coach or a university president or the guy sweeping the building. I think you have a moral responsibility to call us."
This obviously is a case that extends far beyond football or Penn State university.
"It is a case about children who have had their innocence stolen from them, in a culture that did nothing to stop it or prevent it from happening to others," Noonan said.
When Paterno released a statement on the matter Sunday, he said that "if this is true we were all fooled, along with scores of professionals trained in such things, and we grieve for the victims and their families."
The question remains why Paterno apparently never followed up on the investigation after being informed of the locker-room incident.
Some in State College have noted that Paterno and Sandusky may not have even been great friends during and after Sandusky's tenure at PSU. But there's no denying a relationship that goes back 30-plus years, one which had to have played a role in Paterno not going to the police when he had the chance.
Sandusky, Curley, vice president Gary Schultz and very possibly president Graham Spanier are all a major part of this mess in State College.
But, sadly, Paterno is just as central of a figure in one of the worst stories to come out of college athletics that we've ever seen — a haunting wave of criminal behavior that we can only hope encourages victims of abuse to come forward, share their stories or seek any and all help that they may need dealing with being the subject of predatory behavior.
Paterno may have come forward to Curley that day in 2002 with news of Sandusky's wrongdoing, but his inaction thereafter kept a child predator on the prowl. And it raised questions — far beyond those involving his age — of Paterno's ability to lead when it matters most.
Email dave.miller@nationalfootballpost.com or follow me on Twitter at Miller_Dave