January 10, 2013 -
Dave Miller
For ND's Kelly, it's always been about 'time and place'
It's likely that Brian Kelly will get offered a contract extension and more money by athletic director Jack Swarbrick to stay at Notre Dame and continue to rebuild a program that has for so long been searching for football stability.
But if we learned anything just a few days before the Fighting Irish played Alabama in the BCS national championship game, it's that Kelly will not close the door on any unique opportunity presented his way. After all, that's the mentality that directed him to South Bend.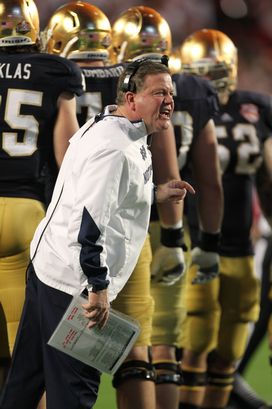 US PRESSWIREBrian Kelly took Notre Dame to the BCS title game in his third year in South Bend.
Reports surfaced Wednesday evening that Kelly had interviewed with the Philadelphia Eagles for the team's head-coaching vacancy, with mutual interest being expressed by both parties. The Eagles and Kelly have reportedly agreed to revisit talks when he returns from vacation this weekend.
When he was asked about the NFL this past Saturday at a press conference ahead of the BCS title game, Kelly was at his political best, saying that NFL teams would have to contact his agent if they are interested. He maintained that he has the best job in the country and that his focus was on Alabama.
But after the Irish were whipped by the Crimson Tide for the BCS title, it was back down to business.
And because Kelly led the Irish to an undefeated regular season in his third year with the team, taking yet another college team to great heights after winning two national titles at Grand Valley State, a MAC championship at Central Michigan and earning a Sugar Bowl berth at Cincinnati, it only makes sense that NFL franchises have taken notice. And it only makes sense for Kelly to continue to climb up the coaching ladder.
In a piece posted by Jeremy Fowler of CBSSports.com on Wednesday night, Kelly could not help but be intrigued by the possibility of coaching in the NFL.
"How can you not be [intrigued]?" Kelly said to Fowler following that same BCS presser on Saturday. "When you've coached football, you look at everything — you look at high school film and you watch coaches there, college, Division III to Division I, it doesn't matter, college, NFL. All of that stuff intrigues me. I still think it comes down to time and place. What is the right time, and what is the right place? I never take any of that off the board."
And there you have it: time and place.
Despite Notre Dame being in a great position to play in more marquee postseason contests moving forward, with an offense that is only beginning to scratch the surface behind dual-threat signal-caller Everett Golson and a deep receiving corps, a defense that is being built more and more like an SEC unit as well as a 2013 recruiting class that will rank in the Top 5 nationally, Kelly can't help but at least entertain other offers. It's in his blood because coaches are always looking for their next challenge. It's what drives them to be the best they can be not just during every game but each day on the practice field, in their office or on the recruiting trail.
Kelly could stay in South Bend for his entire career and have a chance to win multiple national championships. Or he can decide to cash in on his star status and make the leap to the pros now. More likely than not, though, Kelly will get an extension and more money and remain in South Bend until he wins a national championship. Perhaps it comes. Perhaps it doesn't.
One thing, though, is certain: like most coaches, as Kelly told Fowler, it is about "time and place."
Remember, even Nick Saban and Steve Spurrier — two of the winningest college head coaches in the last 25 years — had to scratch the NFL itch eventually.