October 23, 2010 -
Dave Miller
For Notre Dame, yet another inexcusable loss to Navy
Simply put, there's no excuse.
We have seen how good of a football team Navy has been under head coach Ken Niumatalolo, keeping the program moving in the right direction after the departure of Paul Johnson. And we have witnessed Ricky Dobbs' ability to break off big runs and run Navy's offense fluently, wreaking havoc on the opposition.
But Notre Dame (4-4) losing to the Midshipmen (5-2) Saturday afternoon at New Meadowlands Stadium for the third time in the last four seasons is inexcusable. And the fact that Navy made it look so easy? A travesty if you are an Irish fan.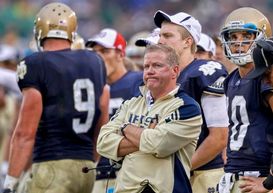 ICONEven Brian Kelly couldn't help the Irish break the hex against Navy.
This is not an indictment on first-year head coach Brian Kelly, who still looks like a leader capable of turning around the program in South Bend. The Kelly era is only eight games old, and everyone knows there is much work to be done. His track record speaks for itself. And that should give anyone associated with the ND program hope.
But despite the Irish not being a powerhouse in today's landscape, there's something wrong with losing to a team that fell to Maryland and Air Force, escaped with a six-point win against Georgia Southern and beat Wake Forest by just one this season.
Powerful program or not, this is still Notre Dame. And losing 35-17 to an academy shouldn't happen. Ever.
The Irish once owned this 84-year-old series, winning an NCAA-record 43 straight games at one point. Now, the Navy senior class is just the third to beat Notre Dame three times — the '37 and '64 classes were the only others. The Midshipmen ran for 367 yards, the most ever by Navy against Notre Dame, and Alexander Teich became the first fullback in school history to rush for 200 yards in a game.
It was ND's most lopsided loss against Navy since 1963.
It's no longer about the difficulty of stopping the triple-option offense. Now, it's about the Irish losing one-on-one matchups. To Navy. And that's a problem.
Notre Dame playing without receivers Michael Floyd and Theo Riddick should not have mattered. The Irish will always have the talent advantage over the Middies. Although, based on recent history, perhaps we should reconsider that as being a given.
Perhaps nothing was more fitting than Navy stopping Notre Dame on its first possession on a fourth-and-goal from the 1-yard line. Dayne Crist couldn't find the end zone on a quarterback sneak. Soon enough, it was 35-10 Middies late in the third quarter. And you had to wonder if Charlie Weis was still on the sideline.
Even in year one, Kelly wasn't supposed to let these losses happen. Instead, Irish faithful likely are no longer counting Tulsa next week as an automatic win.
I don't know if there's a singular reason for the recent struggles of the Irish against Navy or for the recent hard times of the program in general. But it seems to me that it might be something bigger than the head coach.
Follow me on Twitter at Miller_Dave or send your college football questions to dave.miller@nationalfootballpost.com