February 24, 2011 -
Dave Miller
For Saunders, the Combine serves as redemption
All 333 prospects invited to the NFL Scouting Combine in Indianapolis this week have something to prove to their prospective employer at the league's annual job fair. However, for Weslye Saunders, it's safe to say that the interview process will be the most important aspect of his Combine experience.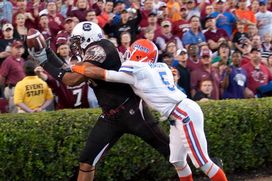 ICONWeslye Saunders hopes to make an impression this week in Indy.
The former South Carolina tight end wasn't able to play at all for the Gamecocks during the 2010 season after he was dismissed by head coach Steve Spurrier following an NCAA investigation. While catching every throw and testing well in the athletic endeavors is of premium importance for every prospect, being open and honest about his off-the-field transgressions will go a long way in determining where Saunders will be taken in April's draft.
Projected as a possible second-round pick as the best tight end in the nation prior to the 2010 season, it's anyone's guess where Saunders will land this year. Some draft experts believe the 6-5, 272-pounder can be taken in the third round, while other analysts wouldn't be shocked to see him fall as low as the sixth round.
What will help the 22-year-old's cause is that this year's group of tight ends is a bit weak, as only 16 were invited to Indy. If he shows up in great physical shape and expresses remorse for his off-the-field actions, teams will take notice.
Saunders was one of the South Carolina players investigated for receiving reduced rates at a hotel, and he was also a subject in the infamous "South Beach" probe that cost North Carolina's Marvin Austin the 2010 season. To his credit, Saunders stayed in school and worked out at the team facility. But an entire season on the field was lost.
Even more bizarre, Saunders didn't learn until recently that he would even officially be eligible for the draft. He didn't officially declare for the draft as an underclassman after he missed his senior year, but the NFL granted Saunders' petition of an appeal and chalked it up as a miscommunication.
At this point, the only data NFL teams have on the tight end is his 60 career catches for 718 yards and six touchdowns. And, of course, the fact that he was dismissed from his program.
Starting this week at the Combine, Saunders, who is currently the NFP's No. 6 TE prospect, has a chance to prove a lot to himself. And to the NFL personnel wondering if he's learned from his mistakes.
Email dave.miller@nationalfootballpost.com or follow me on Twitter at Miller_Dave