March 16, 2012 -
Dave Miller
Former Maryland QB O'Brien interested in Penn State
Since Danny O'Brien was released from his Maryland scholarship, the former Terrapins starting quarterback has been linked to a variety of programs that could benefit from his services.
I recently made the case that O'Brien would be a perfect fit at Wisconsin, as the Badgers are dealing with a lot of adversity under center because of a lack of healthy, experienced bodies at the position. New Badgers offensive coordinator Matt Canada could use a player of O'Brien's caliber as the team begins the post-Russell Wilson era.
But another team that can certainly receive an instant boost from the 6-3, 215-pound O'Brien is Penn State, which has had issues under center the last few seasons.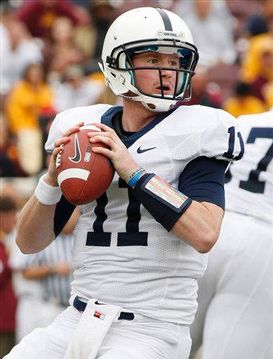 Will incumbent Matt McGloin be getting some competition from Danny O'Brien in the summer?
New Nittany Lions head coach Bill O'Brien will oversee a three-way quarterback battle this spring between incumbent Matt McGloin, Rob Bolden and Paul Jones. But the PSU head coach confirmed that O'Brien has contacted the school and has an interest in playing at Happy Valley.
"Danny does have an interest," the Penn State head coach told reporters. "I'd say we're one of many schools that he's looking at.
"If I can do anything to improve the football team within the rules, whether that's a recruiting idea or a scheme or transfer, then I'm definitely gonna look into it."
O'Brien will likely divide the spring reps between the three current combatants, but he's going to find out that the QB situation leaves a lot to be desired in State College. Landing O'Brien would be a real coup.
In his debut ACC season in 2010, O'Brien went 7-3 as a starter, passing for 2,438 yards with 22 touchdowns and eight interceptions. He had an efficiency rating of 134.5, which ranked fifth nationally among FBS freshmen. Running the Terps' pro-style offense, he looked poised to continue his success in College Park. However, a change in offensive philosophy hurt his development.
Maryland began running the spread under Gary Crowton after former OC James Franklin assumed the Vanderbilt head job, and O'Brien struggled a bit with his reads, especially early in the year. It also didn't help that top receivers Torrey Smith and Adrian Cannon moved onto the NFL, leaving big voids at receiver. He passed for 1,648 yards with 10 interceptions and seven touchdowns in nine games, losing his starting job to C.J. Brown before suffering a broken bone in his non-throwing arm in a loss to Notre Dame.
While the former ACC newcomer of the year would not be able to arrive in State College until the summer, the fact that he would miss spring practice wouldn't be so detrimental considering he's a smart player who would be able to pick up the offense quickly. The most important thing is he will be able to play immediately and he'd give the Nittany Lions stability at the position because he has two years of eligibility remaining.
Certainly, O'Brien's decision will be monitored by a plethora of programs that have been rumored to be interested in his services, including Penn State, Vanderbilt, Michigan State, Stanford, Washington, Arizona, South Florida and Mississippi.
O'Brien's high school coach, Todd Willert, said his former QB will visit schools during spring practice and make a final decision by mid-April. Wisconsin, Penn State and Vanderbilt are considered the three favorites because they run a pro-style offense, but Willert wouldn't confirm any scheduled visits.
Fans in Happy Valley, however, should be ecstatic if the former Terp decides to ultimately become a Nittany Lion.
Email dave.miller@nationalfootballpost.com or follow me on Twitter at Miller_Dave