August 21, 2010 -
Dave Miller
Four-down territory: A freshman surprise at PSU
…When Kevin Newsome and Matt McGloin struggled in Penn State's spring game, many assumed that the freshman who had the best chance of ending up under center at some point this season in Happy Valley was Paul Jones.
Au contraire.
On Wednesday, Jones was told that he will be redshirted for the 2010 campaign. Fellow freshman Robert Bolden, however, is very much alive in the Nittany Lions' quarterback derby, as he has been the steadiest signal-caller in camp thus far, according to Ron Musselman of the Pittsburgh Post-Gazette.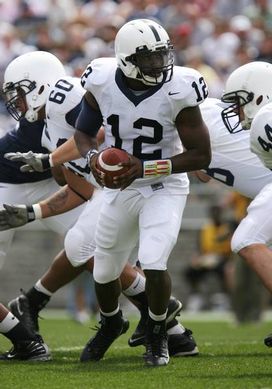 ICONKevin Newsome is slipping in the QB derby at Penn State.
The most fascinating part of this story is that Bolden just arrived on campus this summer, whereas Jones was an early enrollee who turned heads during the spring practice season. But with a strong arm, quick feet and a calm demeanor, some Nittany Lions insiders have made the comparison to Ohio State's Terrelle Pryor, who quickly took over for Todd Boeckman in his true freshman season in Columbus.
The sophomore Newsome, who was at one time the presumed starter, has been far too inconsistent during fall camp, leading many to speculate that the redshirt sophomore McGloin could win the starting job only to hold it until Bolden is ready to carry the full load — similar to what Jim Tressel did with Pryor.
The last true freshman to start for Paterno was Wally Richardson in 1992 after injuries knocked out veterans Kerry Collins and John Sacca. The Nittany Lions open the season Sept. 4 against Youngstown State at Beaver Stadium.
…Kyle Parker will be done with football at Clemson after this season. That much is pretty clear. But is he done with football forever? While he acknowledges that there's a great chance he'll end up pursuing a baseball-only sporting career, he didn't rule out leaving Clemson for an NFL career, either. As a third-year sophomore, he'll be draft eligible next spring and could choose to test his stock at the NFL scouting combine.
"Honestly, I don't know right now," Parker said of picking one sport over the other. "I wouldn't be back playing (football) if I didn't think I wasn't any good or there wasn't any future for me, but is it going to outweigh my baseball future? I don't know yet."
However, head coach Dabo Swinney does know that redshirt freshman Tajh Boyd will be lining up under center for his Tigers in 2011. Parker said that he and Swinney have an understanding that the Colorado Rockies first-round pick is '99 percent' sure that this is his last year at the university.
For Boyd, taking care of the football is undoubtedly the aspect of his game that he must improve on. Forcing the ball is one of the easiest things to do as a young signal-caller. I expect Swinney to give Boyd significant reps throughout the season in practice and even during games to prepare him for his starting role next year.
…I can't be the only one still trying to figure out what BYU was thinking when it left the Mountain West Conference, right? It seems that the Cougars are intent on reclaiming their glory days, and I get that. But wasn't there a better way to do it? Say, remaining in the MWC and hoping that, despite the loss of Utah to the Pac-10, the league could ultimately find a way to grab a BCS automatic bid with Boise State on its way next year?
BYU officials now are weighing their options after Fresno State and Nevada announced their intentions to move to the MWC, putting the Cougars' WAC membership and football independence in doubt. Where does athletic director Tom Holmoe turn now?
Holmoe must notify the MWC by Sept. 1 if the school wants to leave the conference next year. The AD already has publicly discussed the benefits of independence and the constraints of the league's television deal, noting his displeasure with the limited reach of the league's TV partners — Versus, CBS College Sports and The Mtn. — and the restrictions on local broadcasts. The school also likely could make more money by striking its own TV deal.
However, as much history as the Cougars' football program has, BYU isn't Notre Dame. One could argue that Notre Dame isn't even Notre Dame anymore. It seems doubtful that BYU would decide to stay in the MWC after all of this drama, but what if they did? Check out this potential new-look MWC for 2011: Boise State, BYU, TCU, Fresno State, Nevada, New Mexico, Colorado State, Air Force, Wyoming, UNLV and San Diego State.
Would that version of the MWC be BCS worthy?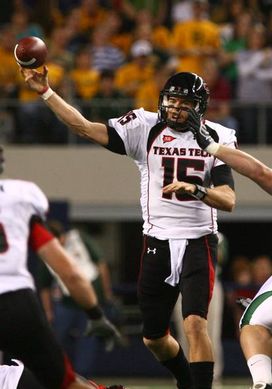 ICONWith a good performance Saturday, Taylor Potts could win the QB job at Texas Tech.
…Could Texas Tech have its starting quarterback chosen by the end of the weekend? Red Raiders head coach Tommy Tuberville said Thursday that he will decide between the strong-armed Taylor Potts and the more mobile Steven Sheffield after reviewing film from Saturday's scrimmage.
Tuberville has said in the past that performance in practice wouldn't be a great determiner because snaps are split equally. However, he acknowledges that scrimmages are different.
"Both of them do a good job, it's just when you turn the lights on and having to do everything under pressure with officials out there and those things" that a real leader under center emerges, he said.
"Last week, obviously Potts did a better job. We'll see what happens this week."
Even Sheffield acknowledges that, based on his performance in the team's last scrimmage, Potts should be leading the race. With a slight edge, can Potts put the nail in the coffin with a solid showing on Saturday?
Follow me on Twitter at Miller_Dave or send your college football questions to dave.miller@nationalfootballpost.com
Click here to purchase the Total Access Pass / Fantasy Draft Guide from the NFP and receive a free Deuce Brand watch while supplies last.