March 27, 2012 -
Dave Miller
Four-down territory: A step closer to a playoff
Let's take a look at what's happening across the nation on this Tuesday morning...
• As I discussed last month, college football will eventually have some form of a playoff system for its postseason once the current BCS contract runs out after the 2013 season. While there are obstacles to overcome before we see exactly how the postseason landscape will take shape, the 11 conference commissioners and Notre Dame athletic director Jack Swarbrick met again on Monday to further discuss the future of major college football's postseason. While "no decisions have been made about the overall structure" of the postseason format, the conversations "have entered the 'brass tacks' level," according to the group's statement following its meeting in Dallas. While the release is a bit unclear and ambiguous, a four-team playoff is on the horizon, as BCS executive director Bill Hancock confirmed that no discussion of an 8 or 16-team playoff has taken place. However, the commissioners and Swarbrick still need to determine if the best course of action is a four-team model that consists of two semifinal games and a final, or whether a "pure" Plus-One model, which would entail a title game after all of the bowl games take place, is the best course of action. I personally have always been a proponent of the single-game model after all of the bowls have taken place, so it will be interesting to see which direction this group chooses to go. A final decision will be made this summer, with the parties expected to meet in Miami next month to iron out the details.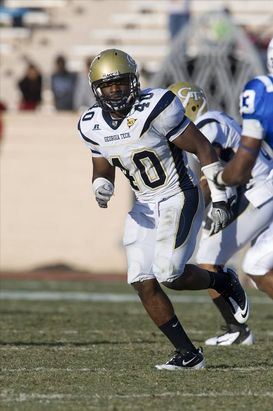 ICONGeorgia Tech LB Julian Burnett's career could be over after sustaining a neck injury.
• Georgia Tech suffered a devestating blow when head coach Paul Johnson announced that linebacker Julian Burnett is likely to miss the 2012 season with a neck injury. The injury to Burnett, who was the Yellow Jackets' leading tackler in each of the last two seasons, might cut short his bright career. A team captain and second-team all-ACC choice in 2011, he was injured in the team's Sun Bowl loss to Utah this past season. He recorded 120 tackles (9.5 tackles for loss), one fumble recovery and one forced fumble in 2011. We wish Burnett a speedy recover as Al Groh's defense looks for a replacement to emerge in spring practice, which began for the Jackets on Monday.
• Spring practice began in Knoxville for Tennessee on Monday, and it couldn't come soon enough for embattled head coach Derek Dooley. As he enters a crucial third year with the Volunteers, he at least now can turn his attention to the 15 days he has on the practice field and not the sports-talk radio callers demanding he be fired. Although do we really think he listens to Knoxville sports radio anyway? While I believe it's absurd that he's on the hot seat even after a 5-7 campaign last year, a lot of turnover on the coaching staff is cause for concern. Dooley will need a big year from new defensive coordinator Sal Sunseri, who is bringing the 3-4 defense that he was a part of at Alabama.
• Nick Saban and every member of his coaching staff received raises after helping lead Alabama to the BCS national championship last season. The only member of the staff not to get a raise? Offensive line coach Jeff Stoutland, who was mentioned in the Yahoo! Sports report detailing the Nevin Shapiro allegations. Coincidence?
Email dave.miller@nationalfootballpost.com or follow me on Twitter at Miller_Dave