June 20, 2011 -
Dave Miller
Four-down territory: Another blow for OSU's Class of 2012
Let's take a look at what's happening around the nation on this Monday morning.
• Is the drama at Ohio State beginning to affect its recruiting efforts for 2012? While it may just be coincidence, the Buckeyes lost out on highly ranked Se'Von Pittman from Canton, Ohio, as Michigan State was able to land the defensive end's services on Sunday. For the Spartans, it is their best recruit yet for next year's class. Pittman chose Michigan State over Alabama, Auburn, Michigan and his hometown Buckeyes. The 6-5, 245-pounder plays high school ball for Canton McKinley, which is known to send its best players to Columbus. The edge rusher, who is considered the best lineman in the state of Ohio, is the sixth player to verbally commit to East Lansing for 2012, joining quarterback Tyler O'Connor, linebacker Riley Bullough, tight end Evan Jones and offensive linemen Zach Higgins and Benny McGowan.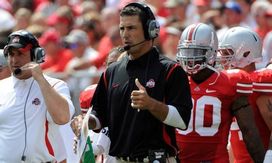 Can Luke Fickell continue the Buckeyes' success on the recruiting trail despite the gloomy outlook in Columbus?
New Buckeyes head coach Luke Fickell worked wonders by getting all but one of the 23 members of Jim Tressel's 2011 class onto campus for the start of summer quarter. Middle linebacker Ejuan Price was the only one to seek a release, and he is reportedly on his way to Pitt. However, the 2012 class could pose a bigger challenge for OSU's new head coach.
Before the Pittman news, fellow defensive end Tom Stroble committed to Michigan less than two weeks ago, and top offensive tackle Kyle Dodson committed to play for Wisconsin just last week after receiving an offer from the Buckeyes. These two in-state losses are tough, although the state of Ohio's depth is particularly strong this cycle. As we move closer to February, will Fickell be able to keep the majority of the strong talent in-state?
• Members of the national champion Auburn Tigers received their rings over the weekend for their dominant 2010 campaign, and offensive lineman Jorrell Bostrom showed off the goods via Twitter.
• Terrible news out of Reno, Nevada, this past weekend as Wolf Pack receiver Brandon Wimberly suffered significant injuries that led to extensive surgery after getting shot in the abdomen early Saturday morning in downtown Reno. Although the injuries aren't life-threatening, the junior isn't expected to play football again. Wimberly and four of his teammates were out and about when a fight started between the players and a separate group of people.
• Bowl Championship Series executive director Bill Hancock is expected to meet with Department of Justice officials on June 30 on the heels of Utah attorney general Mark Shurtleff threatening to file an anti-trust suit against the BCS. Hancock will visit Washington D.C. to describe how the BCS system works to DOJ officials. Officials continue to look into the legality of the BCS in relation to anti-trust laws, although Hancock is confident that the BCS is on strong legal ground.
And as I've discussed in this space before, the government isn't going to be able to do anything to the BCS any time soon. So college football fans who are hoping for a playoff as an end result of these sitdowns with government officials will be very disappointed.
Email dave.miller@nationalfootballpost.com or follow me on Twitter at Miller_Dave