May 22, 2013 -
Dave Miller
Four-down territory: Baylor lands impact defender
Let's take a look at what's happening across the nation on this Wednesday morning...
• Art Briles continues to do a magnificent job on the recruiting trail both with high school prospects and players who are looking to relocate at the major-college level, as Baylor has reportedly landed freshman All-American Sam Ukwuachu from Boise State. The former Broncos defensive end started as a redshirt freshman last season and registered seven tackles for loss and 4.5 sacks, but Boise State recently dismissed him from the team for a violation of team rules. According to Kevin Lonnquist of SicEmSports.com, Ukwuachu is now set to transfer to Baylor. It seems like a great fit for Ukwuachu, who will get to play close to home and could emerge as an impact defender for a program that needs help on that side of the ball. Ukwuachu will have to sit out the 2013 season due to NCAA transfer rules, but he will be ready to step in for the 2014 campaign.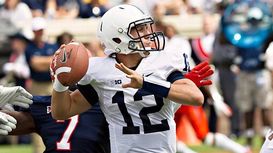 US PRESSWIREWill Steven Bench land at USF?
• With former Arkansas quarterback Brandon Mitchell planning to enroll at NC State, all eyes are now on former Penn State signal-caller Steven Bench, who was also considering the Wolfpack. Bench will now choose between South Florida and Mississippi State. The Bulls seem to be the favorite after Bench described his visit to Tampa as "really special." The opportunity to start this year also exists at USF. But he will wait to make a decision until after his visit to Starkville.
• There's been a lot of buzz about Michigan State freshman quarterback Damion Terry because of his athletic ability and the fact that the Spartans want their signal-caller to be mobile in this evolving offense. While incumbent Andrew Maxwell is not guaranteed a starting job in the fall, there was a lot of positive talk coming out of East Lansing this spring that Maxwell could be ready to deliver a very solid 2013 as long as he gets help from his receivers and the rushing attack is sound without Le'Veon Bell. Head coach Mark Dantonio made his QBs "live" this spring, and that seemed to help Maxwell prepare for the rigors of another Big Ten season as a starter. However, Terry certainly could have packages developed for him if he masters the mental side of the offense. It would take a disastrous preseason camp, though, for Maxwell to not start the season opener.
• With conferences now starting to create their own bowls rather than negotiate tie-ins as the college football postseason landscape continues to change, the American Athletic Conference could be in the process of landing a new bowl game of its own. According to Greg Auman of the Tampa Bay Times, league commissioner Mike Aresco said that the conference will consider creating its own bowl game, potentially in South Florida. With baseball stadiums becoming a chic home for some of these contests, Marlins Park may be an option, according to Auman. Aresco is doing his best to maintain current tie-ins, but the former Big East sees the writing on the wall and is trying to protect itself moving forward. The Belk, Pinstripe and Liberty Bowls may be on the cusp of replacing the AAC, so Aresco will do his best to determine which geographic regions make the most sense for postseason spots. It is safe to say, though, that The American will have a different slate of tie-ins in 2014 and beyond.