December 06, 2011 -
Barry Dorey
Four-down territory: Big East is ready to go West
Let's take a look at what's happening across the nation on this Tuesday morning...
• The long-rumored Westward expansion of the Big East appears closer to reality as Tom Luicci of The Star-Ledger reported Monday evening that the league is close to officially adding Boise State and San Diego State for football only and SMU, Central Florida and Houston as all-sports members, possibly by the end of this week. Conference commissioner John Marinatto has been trying to finalize the additions in the wake of losing West Virginia and TCU to the Big 12 as well as Pittsburgh and Syracuse to the ACC. The Orange and Panthers cannot leave until after the 2013 season under league bylaws while the Mountaineers want to begin play in their new league next season. The Big East, however, has been adamant about its 27-month exit penalty. Marinatto reportedly met with league athletic directors Monday night in New York City, and the commissioner's goal is to add the new members in time for the 2013 season, with Air Force and Navy joining at a later date. It is expected that the league would be split into two six-team divisions. Boise State, San Diego State, Houston, SMU, Air Force and Louisville would form the West, while Rutgers, Connecticut, Cincinnati, South Florida, UCF and Navy would make up the East. Certainly, this new-look league isn't your older brother's Big East. It will be interesting to see if the conference could hold onto its AQ status when the new BCS contract gets put in place after the 2013 season, although AQ statuses could get eliminated altogether in the new deal. The Big East will have an automatic BCS bid for at least the next two years.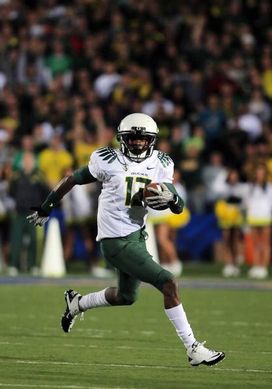 ICONCliff Harris has been dismissed from Oregon after a troubled tenure.
• The Cliff Harris era is over in Eugene, as the All-American cornerback is no longer with the Oregon football team after being dismissed for violating team rules. Already suspended from the Ducks because of a traffic stop in October (he missed the last five games of the regular season and the Pac-12 championship game), Harris was cited for possession of less than an ounce of marijuana in Fresno, Calif., on Nov. 25, according to the Fresno Bee. As a sophomore last season, Harris had 23 pass break ups and averaged 18.8 yards per punt return. He also set an Oregon record with four punt return touchdowns. Once thought of as a future high-round NFL draft pick, Harris now must hope he can get his football career straightened out either at the FCS level or in the pros. But, most importantly, he must get his life straightened out.
• Pat Hill never could get the Fresno State program to live up to the standard set by his 2005 team, the one that pushed USC to the limit when the Bulldogs were ranked No. 16 in the nation. Hill's squad lost 50-42, but the Bulldogs nearly knocked off the top-ranked Trojans, giving many people reason to believe that Fresno State could emerge as an annual BCS crasher. But Hill was unable to elevate his program to Boise State status. However, that should not take away from his legacy with the Bulldogs. Hill made it a point to play any major power at any given time, and his squads beat teams such as Oregon State, Wisconsin, UCLA, Washington and Kansas State. He finished his tenure at Fresno State with a record of 112-80 in 15 seasons, and it will be awfully difficult for the Bulldogs to find a better coach than Hill.
• Al Golden will lose two of the best players from his 6-6 squad as junior receiver Tommy Streeter and junior defensive tackle Marcus Forston have decided to enter the NFL Draft. The Hurricanes already will be losing some of their best players to graduation, so early declarations will hurt even more. Although he battled injuries during his tenure, Forston played in 31 games and had 17.5 tackles for loss along with seven sacks. Streeter's loss is the real big one, as the 6-5, 215-pound big-play threat racked up 811 yards on 46 catches with 8 touchdowns this fall. The 'Canes will also have to replace second-leading receiver Travis Benjamin and senior LaRon Byrd.
Email dave.miller@nationalfootballpost.com or follow me on Twitter at Miller_Dave