April 20, 2011 -
Dave Miller
Four-down territory: Boise's president sounds off
Four-down territory runs every Monday, Wednesday and Friday morning during the offseason.
• Boise State athletic director Gene Bleymaier had a speaking engagement on Monday where he touched on a variety of subjects involving Broncos athletics, including the Mountain West TV deal and joining the Pac-12 in football. But where Bleymaier really made headlines was when he targeted the NCAA's postseason lightning rod known as the Bowl Championship Series. Here's what he had to say, courtesy of the Idaho Statesman's Chadd Cripe:
"It's truly amazing. The sport where the NCAA can generate the biggest revenue and they end up giving it away for free. If the university presidents ever really truly understood what is happening, they would be in disbelief. The NCAA leadership over the past 30 years has been lulled to sleep while this transformation took place."
In this Saturday's NFP On Campus column, I'll expand on the recent buzz generated by a group of 21 economists and lawyers asking the Justice Department to look into the BCS system and how their efforts still won't necessarily prompt a playoff system. I bring that up because those preventing such a radical change to the postseason are the very people Bleymaier called out on Monday evening — university presidents.
One other comment Bleymaier made that I found interesting concerned head coach Chris Petersen and Boise's ability to retain him:
"Obviously we had a scare in January when Stanford came after him. I think the key to keeping Coach Pete around is to continue the progress that we have made in our program and at the university. It's not that we have to go from A to Z tomorrow — our coaches understand that that's not feasible. What I talk to our coaches about is us going from A to B, and then from B to C. You know what? They buy that and they appreciate that…We need to continue to get better — every day, every way that we possibly can."
There's no question that Petersen will remain one of the most coveted coaches on the market every offseason when top jobs open up at bigger programs. While Petersen has declined every opportunity to jump to a BCS conference up to this point, will the city of Boise be able to hang onto its hot commodity for the long haul?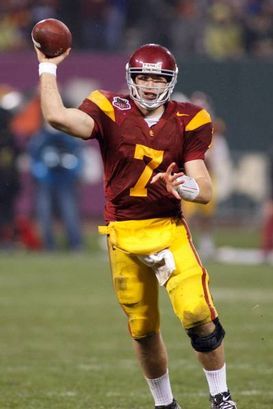 ICONMatt Barkley is practicing with many of USC's key players sidelined.
• USC continues to battle depth issues, and it's affecting quarterback Matt Barkley. The third-year signal caller showed his frustrated during practice on Tuesday, barking at his receivers following poor route running and other miscommunications that led to consecutive incompletions. With spring camp coming to a close, most of the receiver corps is made up of walk-ons and others lacking experience because of injuries and the fact that some of the freshmen haven't arrived on campus yet. As noted by head coach Lane Kiffin, 24 new players have yet to enter the program. Add in the ten scholarship players who haven't practiced this spring and that makes 34 scholarship players who won't be on the field for the team's spring game, which will be held on Saturday. No wonder the game isn't being televised or streamed live on USCTrojans.com. Don't fret yet 'SC fans if all the spring recaps you read on Monday break down the team's sloppy play in the spring showcase.
• Ohio State athletic director Gene Smith can't be happy that the $250,000 fine assessed to head coach Jim Tressel for violating NCAA rules won't cover the cost of the ongoing investigation into the Ohio State program. Moreover, in an interview with The Associated Press, Smith said Tressel was supposed to apologize for his actions at a March news conference but failed to do so. It was only after meeting with his AD that the coach finally apologized in a public setting. Smith said on Tuesday that he didn't know when the investigation into Tressel's actions would be resolved. Of course, Tressel did not disclose to Ohio State officials what he knew about the violations of the Buckeye Five until he was confronted in January while the university was getting ready to appeal the players' suspensions. Tressel, in his 11th year coaching in Columbus, was suspended for the first five games of the 2011 season — the same amount as quarterback Terrelle Pryor and four other teammates who were suspended for accepting the improper benefits.
• I'm not sure how many games Washington State will win next fall, but I am certain that quarterback Jeff Tuel will really take a big step in his game and give Pac-12 defenses fits. Tuel completed 12-of-17 passes for 128 yards and a score in the team's Crimson and Gray game on Saturday, and from everything I'm hearing Tuel has become a more vocal leader on the team. He has a very good receiver in Marquess Wilson to be his go-to guy, and Rickey Galvin can make some plays on the ground at running back.
I don't give Washington State enough coverage, so enjoy the highlights of last weekend's spring showcase, courtesy of the WSUCougarAthletics YouTube channel.
Email dave.miller@nationalfootballpost.com or follow me on Twitter at Miller_Dave