January 05, 2011 -
Dave Miller
Four-down territory: Brandon's delay of game
Let's take a look at what's happening around the nation on this Wednesday morning.
• So the Michigan coaching situation is officially messier this morning than it was immediately after the team's Gator Bowl loss to Mississippi State, which didn't seem possible. But the status of Rich Rodriguez remains in limbo, although all indications on Tuesday afternoon were that Rich Rod was a goner. However, after numerous reports that he had been fired, athletic director Dave Brandon maintains that no decision has been made regarding the head coach. Rodriguez and Brandon met for four hours on Tuesday and will meet again Wednesday to further discuss the coach's future. So why is this meeting extending into a second day? Is Rich Rod pleading his case to remain on the job? Are the two parties discussing parameters of a buyout? And if Jim Harbaugh is no longer an option, which many reports have stated, is Brandon comfortable going with perhaps Brady Hoke? He is a "Michigan man" after all. The buyout for Les Miles doesn't seem legitimate for Michigan, so I'm not sure that's the avenue the school would travel. What about Houston's Kevin Sumlin? He has Big Ten experience as an assistant at Purdue and Minnesota, led some high-powered Oklahoma offenses and can relate to college players. Or, incredibly, Brandon could still retain Rodriguez and have him overhaul the defensive staff. Never a dull moment in Ann Arbor, but I'd be stunned if Rich Rod ultimately gets a fourth season at the school.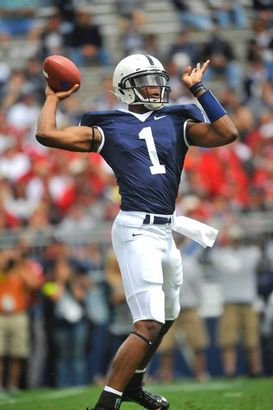 ICONWill Rob Bolden be under center for Penn State in 2011?
• Who can blame Penn State head coach Joe Paterno for not releasing quarterback Rob Bolden from his scholarship? Like all of us this season, Joe Pa saw flashes of a bright future with Bolden under center. According to the Pittsburgh Post-Gazette, even Bolden's mom thinks it's a good idea to stay in Happy Valley. "I didn't want Rob to leave," Tonia Williams, Bolden's mom, told the paper. "I think he should stay there. I just told him that I thought he was making the wrong decision. I really felt that he moved just a little bit too quick and too fast. I don't know what's going to happen now. He tried to get them to sign his release papers and they didn't do it." Of course, I was slightly kidding when I said I didn't blame Paterno for hanging onto his quarterback. The fact of the matter is if Bolden doesn't want to remain at the school — or if any player doesn't want to remain at his program — I'm in favor of granting the release (in most cases). It's likely that Paterno thinks his young signal caller is making too quick of a decision. If after some time Bolden wants to leave Penn State, one would think that Paterno would grant him his wish. Of course, if worse comes to worse, Bolden could still transfer but would have to pay his way for a year before he could be put on scholarship at his next school.
• BYU's Bronco Mendenhall named the team's new offensive coordinator after Robert Anae's resignation last week, as quarterbacks coach Brandon Doman was promoted to the position on Tuesday. Doman has served as quarterbacks coach since 2005 and will continue in that role as coordinator. "I believe Brandon is the best quarterbacks coach in the country and I'm excited he has accepted the opportunity to also serve as offensive coordinator," Mendenhall said in a statement. "He is one of the bright young coaches in the country and the kind of person who exemplifies the core values that our program represents. He is a great teacher and mentor to all in his care, and I'm confident he will thrive in this opportunity to build upon our successes as a program and as an offensive unit." Doman has worked with current NFL players John Beck and Max Hall and current standout starter Jake Heaps. The promotion of Doman looks like a solid move, as he's been instrumental in the development of past BYU signal callers, and his work with Heaps this past season clearly paid off as the true freshman had a fantastic finish to 2010. Expect the Cougars to get away from the power running game in 2011 and open it up a little more. Meanwhile, Arizona has hired Anae to fill the same post in Tucson, according to reports.
• How about the performances on Tuesday night of Ohio State's Suspended Five against Arkansas in the Sugar Bowl? Quarterback Terrelle Pryor, running back Dan Herron, receiver DeVier Posey, left tackle Mike Adams and defensive lineman Solomon Thomas — all suspended for five games in 2011 by the NCAA for selling memorabilia items and receiving improper benefits — made huge contributions to the winning cause against the Razorbacks. Pryor once again played well in a BCS bowl, completing 14 of 25 passes for 221 yards and two touchdowns while adding 115 rushing yards on 15 carries; Herron rushed for 87 yards and a score; Posey hauled in a 43-yard touchdown and led the team with 70 receiving yards; Adams didn't allow a sack all night; and Thomas sealed the win by intercepting a Ryan Mallett pass with 58 seconds left. All those guys are still coming back, though, right?
Email dave.miller@nationalfootballpost.com or follow me on Twitter at Miller_Dave