July 28, 2011 -
Barry Dorey
Four-down territory: Chaos at North Carolina
No matter how it is packaged, the timing of Butch Davis' dismissal from North Carolina is awful. And dumbfounding. Despite the NCAA not implicating Davis when the school received its official notice of allegations, which included nine major violations against the program, we all would have understood if university chancellor Holden Thorp and athletic director Dick Baddour previously removed Davis from his job — despite backing their embattled head coach since the investigation launched. After all, if he truly wasn't aware of the events surrounding John Blake, Jennifer Wiley and Chris Hawkins, he definitely should have been. But Thorp's statement Wednesday that he felt the scandal "has begun to chip away" at the school's reputation is asinine because the reputation was in question since last season when the investigation was first launched. What took Thorp so long to realize this? With Davis' dismissal, Thorp ends up looking like the incompetent leader in this whole mess — not his former head coach.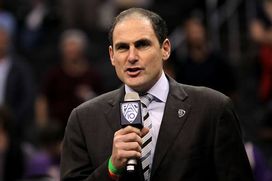 Larry Scott is on a serious roll as Pac-12 commissioner.
Wherever he goes this fall, Larry Scott will be the B.M.O.C. The Pac-12 commissioner hit another home run Wednesday with the announcement of the Pac-12 networks. Yes, networks. Plural. The conference unveiled its plans to expand the Pac-12 brand by having one national channel along with six regional offerings — Washington, Oregon, Northern California, Southern California, Arizona and Mountain — in conjunction with Comcast, Time Warner Cable, Cox Communications and Bright House Networks, which are four of the largest cable operators in the nation. Scott, of course, previously inked television deals with Fox and ESPN earlier this year that will pay the conference $3 billion over 12 years. Launch of the Pac-12 networks is scheduled for August 2012 and the deal is for 12 years. Financial terms were not disclosed. With news of these deals, Scott has unquestionably overhauled the old Pac-10 for the better. And he's done it in an incredibly short amount of time.
First-year Indiana head coach Kevin Wilson landed a real gem in the Class of 2012 when quarterback Gunner Kiel committed to the Hoosiers. One of the nation's top signal-callers, Kiel chose IU over Alabama, Oklahoma and Missouri, to name a few of many suitors. Now, it doesn't hurt that Kiel is from Columbus, Ind., and brother Dusty is a sophomore quarterback who has the inside track on the starting job this fall. But Kiel could have gone to a bigger program, including Notre Dame, where uncle Blair played under center. While it's only a verbal commitment, IU has to be ecstatic. Now Wilson just has to win to raise the profile of the program and get more higher-ranked recruits to come to Bloomington.
The more I hear about Texas running back Malcolm Brown and his humble nature and good work ethic through the summer months, the more I'm starting to believe that arguably the best running back in the Class of 2011 will make a real impact for Mack Brown this fall as the Longhorns look to bounce back from a 5-7 season.
Email dave.miller@nationalfootballpost.com or follow me on Twitter at Miller_Dave