January 03, 2011 -
Dave Miller
Four-down territory: Coaching messes
• Dave Wannstedt won't coach Pittsburgh in the BBVA Compass Bowl against Kentucky on Saturday after all. Wannstedt was forced to resign Dec. 7 after the Panthers went 7-5 in a season they were picked to win the Big East. He was given the option of coaching the team in the bowl but ultimately decided against it, officially ending his six-year run as the leader of the Panthers. And really, who can blame him? The entire program is a mess, and the same athletic director (Steve Pederson) who hired Bill Callahan at Nebraska just said goodbye to former Miami (OH) head coach Mike Haywood, who was chosen on Dec. 16 to be Wannstedt's replacement. Haywood was fired this past weekend after being jailed on a domestic violence charge. Defensive coordinator Phil Bennett will serve as the interim coach until a new coach is selected. One plea Panthers fans should be making to Pederson: "Please, no Tommy Bowden."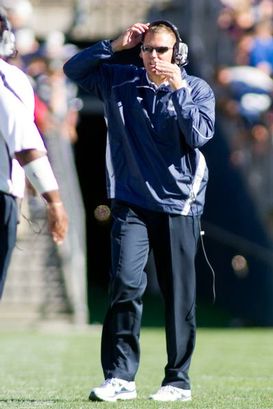 ICONRandy Edsall is on his way to Maryland after building up the UConn program.
• It's hard to say a bad word about new Maryland head coach Randy Edsall, especially after the way he held his team together after the death of Jasper Howard last season. But the way he left the Connecticut program this weekend was pretty classless, to say the least. Some members of the team learned of Edsall's interest in the Maryland opening via text messages as they landed back in Connecticut after the Fiesta Bowl loss to Oklahoma. Edsall didn't accompany the team on its flight back, and players said he told them nothing of his coaching plans after the loss. Per Desmond Conner's report in the Hartford Courant, a freshman player said Edsall stressed his decision "was a spur of the moment thing" and that he "had no idea" things would happen so quickly. Meanwhile, Conner writes that Edsall was in contract negotiations with Maryland last week. While it's true that no more than 25 players returned to Connecticut on the team charter (UConn is on break and many players went back home after the game), Edsall owed it to the entire program — the one he was so committed to for so long — to handle it in a classier way. But then again, the Maryland program itself hasn't exactly handled things well recently either, so maybe it's a perfect match.
• Penn State quarterback Rob Bolden's desire to transfer really caught me by surprise — and it's a blow to the Nittany Lions program. His father told multiple media outlets on Sunday that his son will seek a transfer from State College because he is unhappy at the school. Bolden started eight games this season, becoming the first true freshman to start a season opener for Penn State in 100 years. But he lost his job to sophomore Matt McGloin down the stretch after suffering a concussion. Head coach Joe Paterno admitted that he should have given Bolden more playing time, and Penn State stuck with McGloin throughout his poor showing in the Outback Bowl loss to Florida. Bolden's father told the Altoona Mirror that his son not playing in the bowl game finalized the decision to transfer. It's too bad, because the youngster showed signs of progress through his first year on campus. In terms of Penn State's future under center, a two-man race between McGloin and redshirt freshman Paul Jones likely will take place. Junior Kevin Newsome wanted to transfer, but it'll be interesting to see if he now reconsiders.
• Here are some Orange Bowl odds and ends in preparation for tonight's game:
...Stanford is 0-3 all-time against ACC teams in bowl games, although the Cardinal beat Wake Forest in the regular season — scoring 68 points against the Demon Deacons...Stanford has punted only 29 times this season, the fewest in FBS...The Cardinal last won a bowl game in 1996, when they defeated Michigan State 38-0 in the Sun Bowl.
...For having such a young defense, Virginia Tech certainly has been stingy this season. The Hokies are No. 21 in the country in third down defense efficiency and No. 21 in red zone efficiency defense. They also rank No. 22 in the country in sacks with 2.54 per game...Virginia Tech's all-time record against teams ranked in the top 5 of the AP poll is 1-26, and the Hokies are 0-22 in these games away from Blacksburg, Va.
Early this evening I'll have a look at how Frank Beamer's Hokies rallied back from an 0-2 start to earn a berth in tonight's BCS game.
Email dave.miller@nationalfootballpost.com or follow me on Twitter at Miller_Dave