January 23, 2012 -
Dave Miller
Four-down territory: Ducks avoid a potential rough offseason
Let's take a look at what's happening across the nation on this Monday morning...
Check out my weekly hit with John Harris of The Overnight Takeover on Yahoo! Sports Radio early Monday.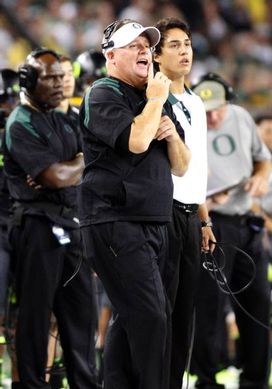 ICONChip Kelly decided to remain with Oregon and bypass a chance to leap to the NFL.
• Chip Kelly ultimately decided to remain at Oregon and bypass a chance to jump to the NFL's Tampa Bay Buccaneers late Sunday evening, helping Oregon avoid a head-coaching search that would have blindsided most residents in Eugene as well as the school's athletic office. While a college coach moving to the pros is nothing new, the timing for the Ducks would have been awful considering National Signing Day is quickly approaching February 1. While many believe that Chris Petersen would have strongly considered leaving Boise State for a return to Oregon and Oregon only (he was an assistant in Eugene for five seasons), what if Phil Knight and Co. were unable to land the Broncos head coach or TCU's Gary Patterson? Losing Kelly, star tailback LaMichael James and quarterback Darron Thomas to the NFL would have been one of the most painful offseasons for any major program. After all, Kelly has led the school to the past three Pac-12 championships, and his brashness and up-tempo high-octane offense helped elevate the team's brand. One option for the Ducks (for continuity sake) could have been to promote Mark Helfrich, the team's offensive coordinator and quarterbacks coach who is a rising head-coaching candidate. He was an assistant at Boise State, Arizona State and Colorado previously, but he also has no head coaching experience. Instead, the Ducks dodged a big bullet and now will enter the 2012 season primed for another run at the Pac-12 title. However, you can believe that the Ducks will be more prepared down the line for Kelly to head to the pro game. Only time will tell if Petersen is ready to switch gigs as well. After all, the serene environment in Eugene is not that different from that of Boise.
• Gene Chizik landed another solid piece to his program Sunday when it was announced that Scot Loeffler would take over as the team's new offensive coordinator. Loeffler, who will replace Gus Malzahn, served as Temple's offensive coordinator last season after coaching Florida's quarterbacks the prior two years. He has worked with Tim Tebow, Tom Brady and other future NFL quarterbacks, and his pro experience was also appealing to Chizik, who hired Brian Van Gorder from the Atlanta Falcons to run the team's defense. Look for the Tigers to be multiple on offense, but the team is clearly leaning to more of a pro-style scheme moving forward. And Loeffler will be a key piece in developing the team's signal-callers both short and long term.
• The nation's best receiver prospect in the Class of 2012, Dorial Green-Beckham (Springfield, Missouri; Hillcrest), visited Arkansas this past weekend along with Jordan Diamond (Chicago, Ill.; Simeon), one of the top offensive linemen in the nation. If the Razorbacks are able to land the two uncommitted recruits it would be a big coup for head coach Bobby Petrino, especially because the Hogs are looking for weapons for quarterback Tyler Wilson with the team's deep receiver corps taking a hit due to graduation and the NFL. DGB is also strongly considering Missouri, while Diamond is considering Auburn, Michigan, Ohio State and Wisconsin.
• Finally, stay with the National Football Post all week as Matt Bowen, Wes Bunting and Joe Fortenbaugh keep you updated with all the latest news from the Senior Bowl in Mobile, Ala.
Email dave.miller@nationalfootballpost.com or follow me on Twitter at Miller_Dave