August 14, 2010 -
Dave Miller
Four-down territory: early camp impressions
…Perhaps Ole Miss won't miss Dexter McCluster that much after all — at least not in the running game. Special teams may be a different story. But as David Brandt of Jackson's Clarion-Ledger writes, junior Enrique Davis may be ready to emerge as the sensational back that many in Oxford thought they were getting when he arrived on campus. After rushing for only 354 yards over two seasons, the 6-foot, 220-pounder has been impressive in the early days of preseason camp.
Speed has never been an issue for the chiseled Davis. However, his difficulty getting to the hole quickly has forced him to spend much of his career on the sideline. But this offseason he worked with strength and conditioning coach Don Decker to loosen his hips so he would be able to cut better.
The hard work may be paying off, as Brandt notes: "If I was watching Ole Miss for the first time, I'd say he looked like the starter."
While Davis remains behind fellow junior Brandon Bolden on the depth chart for now, expect Rebels head coach Houston Nutt to play the hot hand in the backfield. This may be Davis' last opportunity for significant playing time, and with Rodney Scott in hot water still after his off-the-field issue, the time could be right for Davis to cash in on the high expectations.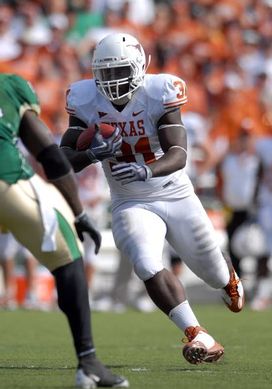 ICONCody Johnson dropped some weight. Are more carries in his future?
…Did the Texas backfield get a little bit deeper? While Tre' Newton and Fozzy Whittaker remain atop the depth chart, running back Cody Johnson looks like a different player in camp. Really, he does. While he is still listed at 250 pounds, the Austin American-Statesman's Randy Riggs says the rumors about Johnson dropping a significant amount of body fat seem to be true.
Riggs writes that the junior looked cut and solid, displaying a burst that was not evident last season. While he may never be an every-down back, "look for him in short-yardage, big-back situations."
Longhorns head coach Mack Brown has repeatedly stated throughout the offseason that the team is recommitted to the run, and it makes sense with Garrett Gilbert taking over under center. The sophomore Newton led the team with 552 rushing yards and six scores in '09 while Whittaker is finally healthy after suffering a knee injury two years ago. He only had 53 rushes for 212 yards and four scores last season, but he did run 18 times for 71 yards against Oklahoma. The 5-10, 195-pounder is also a receiving threat out of the backfield.
…Hard work really does pay off. If you're not a believer, just turn your attention down to Tuscaloosa, where former five-star offensive tackle D.J. Fluker is on the heels of claiming a starting spot up front for the Crimson Tide. The 6-6 Fluker, who reported to camp last summer close to 400 pounds, is now battling junior Alfred McCullough for the starting job at right tackle. Don Kausler Jr. of the Birmingham News writes that the redshirt freshman "was bigger than All-America nose tackle Terrence Cody but not nearly as agile" last season.
We remember Mt. Cody. Fluker must have been one big, slow cat during preparations for the '09 season.
But it's a new year, and the lineman says he's now down to 325 pounds. As a result of the drastic weight loss, Fluker's footwork has improved.
"I move a lot better," he said. "Feel a whole lot quicker. I work hard. I can breathe a whole lot better, too."
Crimson Tide head coach Nick Saban notes that the improvement was outstanding, but he knows that this should only be the beginning of unlocking Fluker's vast potential.
"I think the biggest thing he has to do — he knows what to do — is show more maturity in being able to focus on that and overcome things that are unfamiliar to him and that frustrate him," Saban said. "You can't get frustrated. He's got to play the next play, keep playing, be aggressive, and I think he'll be fine. He's improved his pass protection because he has improved his range and his mobility."
Will the hard work be enough to hold off McCullough for the right to start the opener?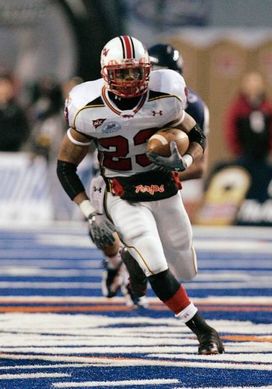 ICONA healthy Da'Rel Scott will ease the mind, at least a little bit, of Ralph Friedgen.
…The key to Ralph Friedgen surviving a new regime in College Park? Well, besides a bowl bid — and even that may not be quite enough — his future may be in the hands of senior running back Da'Rel Scott, who symbolized the Terrapins' disappointing '09 season. After an All-ACC campaign in '08, Scott couldn't stay out of the trainer's room last season.
But the 5-11, 200-pounder seems primed for a big final campaign at Maryland. Scott has been displaying an extra burst of quickness in the early days of Terps camp thanks to both finally being healthy and running track during the winter, which he said helped hone his muscles.
"I think the coaches and the players have seen that in spring ball. I think they noticed the difference — more bounce in my step," Scott said on the second day of camp.
Scott, a sprint specialist, clocked a school-record (for RBs) 4.33 40 time during spring testing.
With the team breaking in a new quarterback and Friedgen on thin ice, a return to '08 form for Scott is essential for the Terps to avoid another terrible season.
Follow me on Twitter at Miller_Dave or send your college football questions to dave.miller@nationalfootballpost.com
Click here to purchase the Total Access Pass / Fantasy Draft Guide from the NFP and receive a free Deuce Brand watch while supplies last.