February 22, 2012 -
Dave Miller
Four-down territory: Edsall files formal complaint
Let's take a look at what's happening across the nation on this Wednesday morning...
Check out my weekly hit with John Harris of The Overnight Takeover on Yahoo! Sports Radio early Wednesday.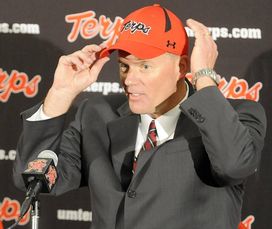 Randy Edsall will allow Danny O'Brien to go to Vandy, but he believes the Commodores are in the wrong.
• Former Maryland quarterback Danny O'Brien will be allowed to transfer to Vanderbilt if he chooses after all, as Terrapins head coach Randy Edsall decided to lift the restriction against the Commodores a week after denying O'Brien the option. Edsall will also allow former offensive lineman Max Garcia and linebacker Mario Rowson the option to play for former Terrapins offensive coordinator James Franklin. "While at first I thought it was important to limit the institutions to which they could transfer, I have since reconsidered my decision," Edsall said in a statement. "At the end of the day, I want what's best for these guys and I wish them well in their futures." Of course, Edsall faced a PR nightmare when he initially decided to restrict O'Brien, who reportedly considered appealing the decision. However, the Edsall-O'Brien-Franklin drama may not be over, as The Washington Post is reporting that Edsall has filed a formal complaint with the ACC, accusing Franklin of having improper contact with O'Brien before he decided to transfer. Late last week, Franklin denied any wrongdoing. "I don't like innuendos and comments being made about tampering and things like that," Franklin told 104.5 The Zone in Nashville. "You guys know me. I'm the type of guy, I'm going to have relationships with my players. I hope to have relationships with the guys that play for me for the rest of my life. But the fact that people would make accusations that we tampered or did this or did that, again, I'm just going to defend our program and defend our character and how we do things. But I think it's ridiculous to think that I'm not going to have relationships with these kids after I leave places." Edsall's complaint will now be reviewed by the SEC. So this drama is far from over.
• Former Miami assistant coach Sean Allen confirmed some of the allegations from disgraced former Hurricanes booster Nevin Shapiro, but he says overall that the story was "blown way out of proportion." Shapiro has gone on record via emails to The Miami Herald over the past few months to state that the fallout in Coral Gables is going to be "severe and catastrophic." But testimony from Allen, who worked as Shapiro's personal aide during the time period when such wrongdoing allegedly went down, suggests that the Miami program may not be in such hot water. Allen spoke to New Times about his association with Shapiro, but he did not deliver key testimony to the NCAA. And without that, the Hurricanes may not get punished any more than with a bowl ban for perhaps a season, although the 'Canes were smart to choose not to accept a postseason bid in 2011. Because the NCAA lacks subpoena power and investigators could not get Allen to answer most of their questions, the 'Canes may be in better shape than many first had imagined.
• After new Big 12 member West Virginia dropped the school from its 2012 nonconference schedule, Florida State was unable to land a quality replacement such as Arkansas, Texas A&M or Pittsburgh. So, the Seminoles announced Wednesday that FCS member Savannah State will slide into the September 8 vacancy. The Tigers will receive a guarantee of $475,000 for the game at Doak Campbell Stadium. The 'Noles received $500,000 from the Mountaineers for breaking the contract, though they are still considering taking further legal action.
• Be sure to stay with the NFP as the NFL takes over Indianapolis. Our own Wes Bunting and Matt Bowen will have you covered with all of the latest news, notes and analysis from the NFL Scouting Combine.
Email dave.miller@nationalfootballpost.com or follow me on Twitter at Miller_Dave