June 28, 2012 -
Dave Miller
Four-down territory: Filling out the non-semi major bowls
Let's take a look at what's happening across the nation on this Thursday morning...
Check out my appearance last night on 97.1 FM The Fan in Columbus, OH.
• We already know that in the four-team playoff system that begins in 2014, the semifinalists will be placed in four of the 12 available slots in the six-team rotation of major bowls. But how will the other eight teams be selected? FBS commissioners are looking at two plans as of now. The first would utilize the rankings that will be used by the committee to pick the top four teams. Thus, Nos. 5-12 would take up the other available slots. An alternative would be to have conference champs that finish within a certain ranking — perhaps maybe Top 16 or Top 20, much like the exemption the current BCS has for non-AQ schools — as well as other power wild-card teams. Of course, the "little guys" in the current non-AQ leagues are hopeful for the second plan because it's difficult to imagine an undefeated Southern Miss or Nevada, for example, cracking the big bowls any other way once the BCS contract expires and the new postseason takes shape.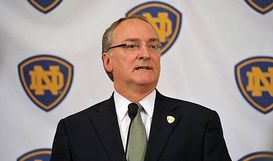 Jack Swarbrick and Notre Dame have a decision to make regarding their NBC deal.
• Notre Dame athletic director Jack Swarbrick expects the school to make a decision on a new deal with NBC in the next month or so, with the brass debating whether to agree to a new deal now or wait until the current deal expires in 2015, according to Brian Hamilton of the Chicago Tribune. While Swarbrick prefers shorter media deals, he is well aware of the new landscape of college football: a 12-year playoff contract, an ACC TV deal that runs through 2027, lucrative Big 12 and Pac-12 TV deals, etc. He said the Fighting Irish are prepared for a longterm deal with the Peacock Network but that it wouldn't be his first choice. However, he maintains that it has nothing to do with weighing other media options. Rather, it's a timing issue based on market analysis. Of course, TV essentially runs the sport so Swarbrick would rather err on the side of caution more than anything. Swarbrick also said that any conference expansion/realignment matters (see rumors about a jump to the Big 12) won't play a role in the school's decision.
• Speaking of Notre Dame, Class of 2013 commitment Danny Mattingly will be a nice addition to coordinator Bob Diaco's defense, as the Fighting Irish continue to get more athletic at the linebacker position. The three-star recruit is suited to play as a 3-4 outside 'backer because of his athleticism and length as well as having good cover skills. He joins Jaylon Smith, arguably the best outside linebacker in the nation, in this class. Adding quality and depth to a position of need will only help shape this defense into an upper-echelon unit nationally, which is steadily occuring under Diaco and head coach Brian Kelly.
• One name to keep in mind when looking at some of the better prospects in the Class of 2014 is tight end Milan Richard. He's Herschel Walker's nephew, and his mother was an All-American in track at Georgia. He only has two offers as of right now: Vanderbilt and N.C. State. But look for the offers to add up after his strong showing at the Mark Richt Camp. Plus, he has the strong family background that will certainly intrigue numerous coaching staffs.
Email dave.miller@nationalfootballpost.com or follow me on Twitter at Miller_Dave