June 03, 2013 -
Dave Miller
Four-down territory: Future new subdivision?
• The idea of another subdivision within college football continues to be discussed, as NCAA president Mark Emmert noted that a fourth faction might be needed because of concerns over the current state of the sport within the governing body. Following a meeting with leaders of the Big 12 last week to discuss their concerns, Emmert did not dismiss the possibility mentioned in late April by Mike Slive when the SEC commissioner talked about stipends for student-athletes. "That's not my decision," Emmert said of a possible division. "That's the members' decision. And I hope they look at it. I think it would be healthy and the right thing to do." The impending College Football Playoff has emerged as the biggest reason why there could eventually be a schism within the Football Bowl Subdivision (the NCAA's top subdivision), led by the power conferences: SEC, Big Ten, Big 12, Pac-12 and ACC. These five leagues are already bringing in many millions of dollars because of TV deals and such, and the amount will only increase with the four-team playoff. So the gap between the major-conference schools and the bottom schools will continue to widen. But while Emmert did discuss these concerns, Big 12 commissioner Bob Bowlsby isn't quite sure how realistic it is to actually happen. "It's been bantered around a little bit, but I just don't hear much talk about the major programs taking their ball and pursuing some other option," Bowlsby said. "People are committed to the NCAA and making the amendments and changes that are going to be required." The issue of another subdivision isn't going anywhere, but it's certainly noteworthy that Emmert admits that the landscape has changed. Many longtime observers of college football believe that a breakoff will eventually occur because the business of college sports has become so big and rich.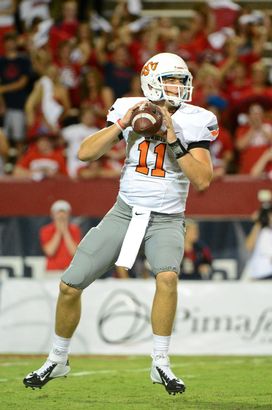 US PRESSWIREWes Lunt has not decided on a transfer destination quite yet.
• Former Oklahoma State quarterback Wes Lunt has not yet made a decision on his next destination, but Louisville and Illinois remain the finalists. He has visited both schools but needs more time to determine whether he will become a member of the Cardinals or the Fighting Illini. While the Cards have been considered the favorite because their program is more stable, Illini brass have been selling him on the idea of playing for his state school. It would be a huge coup for second-year head coach Tim Beckman if Lunt chooses the Illini.
• With former freshman All-American Terrence Mitchell expected to transfer from South Florida and finish his career at Division II Fort Hays State in Kansas, the Bulls have depth concerns at wide receiver — and cornerback. Mitchell was going to shift to the secondary under new head coach Willie Taggart but remain an offensive option if the team didn't see the younger receivers develop. However, after serving a suspension, USF's No. 2 receiver in 2012 will depart. Now, No. 1 receiver Andre Davis will have to carry the load even more. Taggart would love to see junior Deonte Welch or sophomore D'Vario Montgomery emerge as a second receiving option, especially because Florida transfer Chris Dunkley remains suspended. Dunkley has not participated in team activities since last October 1.
• J.C. Jackson, who is one of the better athletes in the Class of 2014, decommitted from Florida State today. And it appears that Miami (FL) and Florida could be the two frontrunners for his services. Jackson attended a camp at Miami this past weekend and will partake in a camp at Florida next weekend. There is speculation among some recruiting analysts that Jackson's high school teammate, athlete Jimmy Bayes, could land at the same college as Jackson. As of now, though, Bayes is committed to South Florida. However, like Jackson, Bayes has an offer from the Hurricanes.