January 04, 2011 -
Dave Miller
Four-down territory: Harbaugh's status
Let's take a look at what's happening around the nation on this Tuesday morning.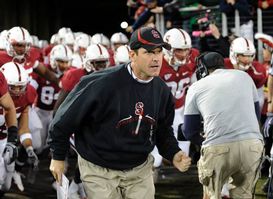 ICONThe biggest fish in the sea, Jim Harbaugh.
• Has a college head coach's value been any higher at any point than it is right now for Stanford's Jim Harbaugh? We'll likely see reports starting today that he has deals with the San Francisco 49ers, Denver Broncos, Michigan and perhaps that he's staying with the Cardinal — don't be surprised if by late afternoon you're hearing that he's on four different planes. That's the nature of the media world we live in right now. No matter where Harbaugh is coaching in 2011, expect that team to win — because winning just seems to come easy to "Captain Comeback." Looking back to the start of the season, I feel ashamed to have even questioned how the offense would look without Toby Gerhart. Have we ever seen such a talent like quarterback Andrew Luck actually get better and better as the season progressed? I mean, the kid's scary good. If Cardinal fans want to read anything into the postgame events last night, I will say that Harbaugh had a great opportunity to sell the Stanford program on a big stage to a large television audience by talking to ESPN's Michelle Tafoya. But he turned it over to his players — which definitely shows that he loves his guys. But I wonder if he would have taken advantage of a great recruiting opportunity if he was returning to Palo Alto.
• Where will Pittsburgh turn after firing Mike Haywood? Former Cincinnati Bengals head coach Marvin Lewis and former Texas Tech head coach Mike Leach, who was passed over for the Maryland job, are reportedly high on the list of athletic director Steve Pederson. In addition, Tulsa's Todd Graham and Houston's Kevin Sumlin likely remain in the mix after interviewing the first time around. We've heard the Rich Rodriguez rumors if he is fired from Michigan, but I just don't see how Penn State defensive coordinator Tom Bradley or Virginia Tech's defensive coordinator Bud Foster (forget about the Orange Bowl loss) don't seem to be registering on the radar. The 2011 recruiting class for the Panthers is crumbling, and this is slowly becoming a program that is unraveling.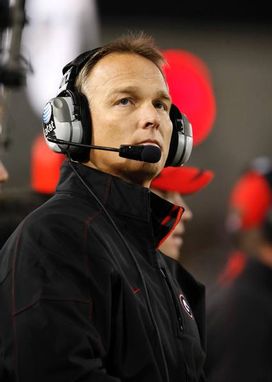 ICONMark Richt could use some good fortune after the disappointing 2010 season.
• We heard the news this past weekend that four-star running back Dee Hart is now committed to Alabama, so the overwhelming sentiment is that Georgia's chances of getting the top running back in the country have increased. Five-star recruit Isaiah Crowell of Columbus, Ga., is reportedly down to Alabama, Georgia and perhaps Auburn. Would Crowell follow Hart to Tuscaloosa? Likely not, so this is a big chance for Mark Richt and the Bulldogs. If Crowell lands in Athens, it would be a huge coup for Richt, who will definitely enter 2011 on one of the hottest seats in America. We saw how Marcus Lattimore changed the offense at South Carolina. Could Crowell have the same impact, especially as the Bulldogs' rushing attack underwhelmed in 2010?
• This is purely speculation, but I have a feeling that the "head coach-in-waiting" title on Dana Holgorsen will become "head coach" by the time the 2011 season rolls around. I just can't see Bill Stewart sticking around for a full season with his replacement looking over his shoulder. With UConn and Pittsburgh dealing with coaching issues, the Big East could be wide open once again next year. Maybe Mountaineers brass will decide that waiting a year isn't the way to go and will ask Stewart to step aside. Again, just speculation. But can you see Stewart on the sideline next year?
Email dave.miller@nationalfootballpost.com or follow me on Twitter at Miller_Dave