March 21, 2011 -
Dave Miller
Four-down territory: Harsh penalties for Floyd?
I have a lot of catching up to do after taking some time off to relax and vacation in the beautiful town of South Beach. I apologize if I've been light on my posts the last five days or so, but I am re-energized after getting some sun and escaping the Chicago weather.
With that in mind, let's see what's happening across the country on this Monday morning.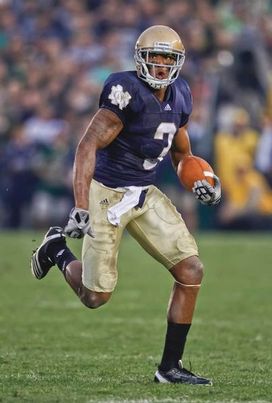 ICONMichael Floyd was named one of two captains for 2011 by head coach Brian Kelly.
• The arrest of Michael Floyd certainly wasn't the news Notre Dame head coach Brian Kelly was looking for as the Fighting Irish get set to open spring practice on Wednesday. The star wide receiver, who surprised many by returning to South Bend for his senior season and bypassing the NFL Draft, was picked up on a DUI charge early Sunday morning in South Bend. The 6-3, 227-pounder could be in even hotter water than a first-time offender because of his citation for underage drinking in January 2010. Because it's his second offense, Notre Dame's Residence Life could come down much harsher on Floyd, who caught 79 passes for 1,025 yards and 12 touchdowns last season while becoming the school's all-time leader in scoring receptions. Keep in mind that former tight end Will Yeatman was suspended for the rest of the 2008 season when he committed a second alcohol-related offense. He later transferred to Maryland.
But not only will the 21-year-old receiver have to deal with a committee, he also has to face Kelly — not an easy task especially after being named one of two captains for 2011 along with Harrison Smith. The second-year head coach lauded Floyd's work ethic last season after the two didn't exactly get off to the smoothest of starts in their relationship.
After the Irish built up so much momentum heading into this offseason following their closing four-game winning streak, which included the bowl win over Miami, the team now will have to deal with this distraction during spring drills. Definitely not what Kelly and Co. expected as they begin early preparations for a 2011 season that many people feel could include a BCS invite following an 8-5 campaign in 2010.
• Alabama begins spring practice on Monday looking to put behind a disappointing 2010 season. Yes, a 10-3 season is a letdown when a team is as talented as the Crimson Tide. Longtime standouts Greg McElroy, Mark Ingram and Julio Jones are no longer in Tuscaloosa, and the battle for the starting gig under center will be the focus for much of the camp. But I'm interested to see how U.S. Army national high school player of the year Dee Hart fits into the Tide's plans. There are big expectations for the true freshman after he ran for 2,218 yards and a state-record 50 total touchdowns in 2010. The 5-8, 190-pounder could certainly steal some carries from Trent Richardson if he picks up the offense and adjusts to college life after enrolling in school early.
• James Franklin may have a tougher fight on his hands after all in the battle for Missouri's starting quarterback gig. The rising sophomore connected on just 18 of 34 passes with one touchdown and one interception as he struggled with his accuracy in the Tigers' opening scrimmage on Saturday. Meanwhile, redshirt freshman Tyler Gabbert picked up where big brother Blaine left off by completing 20 of 27 passes for 206 yards, including a 64-yard score. It's certainly very early, but a Gabbert could be lining up under center in Columbia after all in 2011.
• Although Ohio State head coach Jim Tressel increased his suspension from two games to five in order to be on course with the Buckeye Five, keep in mind that the Vest will still be able to do his real work during the week as he and the staff implements the weekly game plans, preparations, etc. It certainly seems like a nice gesture on the surface, and there's no doubt the team will miss his leadership on Saturday afternoons, but Terrelle Pryor, Noah Herron and Co. are still paying the bigger price in this whole mess at the end of the day. How the NCAA feels about it remains to be seen.
Email dave.miller@nationalfootballpost.com or follow me on Twitter at <a href="http://twitter.com/Miller_Dave" target="_blank">Miller_Dave