January 04, 2012 -
Dave Miller
Four-down territory: Is Ball entering the NFL Draft?
Let's take a look at what's happening across the nation on this Wednesday afternoon...
• Contrary to multiple reports, Heisman Trophy finalist Montee Ball has not yet made a decision on whether or not he will return for his senior season at Wisconsin. The prolific running back took to Twitter on Wednesday afternoon to note that he's "leaning one way" but that he is not yet ready to make an announcement. Evan Flood of 247Sports.com is reporting that Ball will return for his senior season, which is the opposite of what we heard as late as Wednesday morning. The Badgers are already reeling from losing linebackers coach Dave Huxtable and offensive line coach Bob Bostad to Paul Chryst's staff at Pittsburgh. James White will be entering his junior season and is capable of assuming the lead role next season if Ball departs, but Ball's impressive 2011 campaign after dropping weight showed just how much Wisconsin would miss him if he left for the NFL early.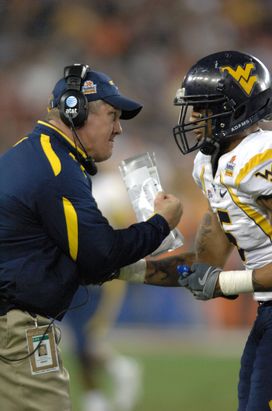 Is Jeff Casteel on his way to reuniting with Rich Rodriguez?
• Rich Rodriguez may be able to get Jeff Casteel to leave West Virginia after all. After failing to land his former defensive coordinator when he assumed the Michigan head-coaching job, Rich Rod will name Casteel in the same position at Arizona, according to Pete Roussel of CoachingSearch.com. Casteel runs a 3-3-5 scheme with the Mountainners, and the Wildcats are certainly in desperate need of an improvement on defense. Could an announcement come as soon as Thursday with West Virginia's season coming to a close tonight against Clemson in the Orange Bowl?
• Jon Tenuta is not headed to Illinois to become its defensive coordinator after all. A day after being named to Tim Beckman's new staff, Tenuta has decided to remain at North Carolina State for family reasons. So the Fighting Illini are still trying to fill the positions of offensive and defensive coordianator after losing Paul Petrino and Vic Koenning to Arkansas and North Carolina, respectively, following the dismissal of Ron Zook.
• Could voters of The Associated Press Top 25 poll still vote LSU No. 1 if the Tigers lose a nail-biter to Alabama in the BCS national championship game? Absolutely. And that would open up the possibility of a split champion for the first time since LSU and USC shared it in 2003. The winner in New Orleans gets the crystal football trophy, awarded to the BCS champion, and also is automatically the No. 1 team in the final USA Today coaches' poll. But the writers could go the other way. I just don't expect it to happen.
Four-down territory runs every Monday, Wednesday and Friday.
Email dave.miller@nationalfootballpost.com or follow me on Twitter at Miller_Dave