September 24, 2010 -
Dave Miller
Four-down territory: McCartney returning to CU?
…Before Colorado rebounded last week from its embarrassing 52-7 loss to Cal, Mark Knudson of the Denver Daily News reported that Buffaloes athletic director Mike Bohn might be interested in bringing back Bill McCartney to the sideline in Boulder.
On Wednesday, Tom Dienhart of Yahoo! Sports tweeted: "I am hearing buzz that Bill McCartney could be a coaching option at Colorado if Dan Hawkins doesn't finish the season."
ICON
If Dan Hawkins doesn't survive at Colorado, could Eric Bieniemy emerge as a serious candidate to replace him?
While Knudson notes that former Buff and current NFL assistant Eric Bieniemy and former Buff Dave Logan are very much interested in the gig when it opens — and it will open barring a miraculous turnaround from Hawkins — a source told Knudson that the 70-year-old McCartney could come back for two or three seasons to "right the ship" in Boulder before turning the program over to a younger "head coach in waiting" whom he would groom for the job.
Another source didn't confirm that McCartney absolutely wants back on the sideline, but Knudson was told that "he wants to oversee the thing." Whether or not that is as a coach or a sort of football operations guy is unclear, but the same source says that McCartney has been talking to former players and coaches, possibly to try to assemble a staff.
McCartney certainly will always be a popular man in Boulder. As the head coach from 1982-1994, he won three Big Eight titles and shared the national championship with Georgia Tech in 1990. In his final season, CU finished 11-1 — the lone loss coming at eventual national champion Nebraska.
Could the CU legend lead the Buffs into the Pac-12?
John Robinson, the legendary head coach at USC who came back for a second stint with the Trojans after being gone for 11 years, didn't come close to the success of his early years. But Mike Riley is having success after returning to Oregon State, and Bill Snyder is solidly leading Kansas State in his return. However, Riley and Snyder were only away for a few years, not a decade and a half.
A lot has changed since McCartney has roamed the sideline with the Buffaloes — and most of the changes haven't been good. Would McCartney be able to sustain the grind of being a head coach in today's college football world, especially with recruiting?
I love the idea of McCartney helping revitalize the Buffs, but a more AD-like role would seem to be the best idea in my opinion.
…Staying on the coaching course, Mike Leach was back in the news this week after a report surfaced in Albuquerque that New Mexico head coach Mike Locksley would be fired after the Oct. 9 game against New Mexico State and replaced by the former Texas Tech head coach. However, after Leach said he was unaware of the rumor and attempted to dispel the story, his lawyer confirmed that he won't be taking the job. Leach is currently working as a game analyst for CBS College Sports and co-hosts a daily college football radio show on Sirius.
While Leach may not be heading to Albuquerque, Locksley's future at New Mexico appears shaky at best because the team isn't improving on his watch. While he is in only his second year — and I'm a big believer in giving a new hire four seasons to show if it will or will not work — Locksley has seemingly taken the program backwards. I know the Lobos have played two ranked teams in Oregon and Utah, but with his off-the-field issues — coming to blows with an assistant coach and having a heated argument with a staff member of the student newspaper — combined with being outscored 180-31 to start the season, Locksley will have some explaining to do if he can't create any positive vibes around the program. No matter how good of a recruiter he has been, at some point coaching takes precedence.
The 0-3 Lobos play UNLV this weekend.
…Can Notre Dame thwart Andrew Luck and the Stanford passing attack? The Cardinal quarterback likely will find holes in the Fighting Irish defense because he's one of the best signal callers in the nation, but the Irish at least feel better about their chances of stopping him with a healthy secondary. After dealing with offseason transfers and players being declared ineligible, head coach Brian Kelly will have his projected first-string defensive backfield together as the Irish try to avoid falling to 1-3 at Notre Dame Stadium.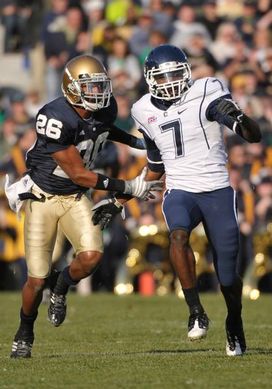 ICONSafety Jamoris Slaughter will return to the Notre Dame lineup against Stanford.
Safety Jamoris Slaughter, who sprained his ankle in the season opener, will return to the lineup, which will allow Zeke Motta to move back into his nickelback role. Fellow safety Dan McCarthy, the backup to Harrison Smith, also is close to 100 percent after pulling a hamstring before the opener.
While cornerback Darrin Walls did hurt his groin in last week's loss to Michigan State, he is expected to play.
Kelly is being cautious with Walls and fellow cornerback Gary Gray because they are leaned on heavily with Robert Blanton the only corner who can be relied upon, as ND has depth issues at corner.
Kelly and defensive coordinator Bob Diaco will now be able to use multiple looks against Luck with more personnel.
"Maybe play a little man, a little roll zone," Kelly said. "We'd like to do some other things, so it's not so easy to convert (on third down). It allows you to do a lot more and keep the offense guessing, especially in third and medium."
…Alabama may not be the frontrunner for five-star offensive tackle recruit Cyrus Kouandjio after all. One of the nation's top OT's and a top-10 player overall, Kouandjio was long thought to be headed to Tuscaloosa to play with his brother, Arie, who signed with the Tide in February — despite the lineman himself stating that nothing was set in stone. Now, his high school coach, Bill McGregor, expressed to the Iowa City Press-Citizen that he isn't sure if Alabama is the preferred destination. Perhaps Iowa City could land Kouandjio, as former teammate Marcus Coker is expected to make his college debut this week after Jewel Hampton's season-ending injury.
"Last time we spoke, Iowa was right there," McGregor said. "The reason being because of the great job coach Ferentz does with their offensive line."
Ferentz was an offensive line coach with the NFL's Cleveland Browns and Baltimore Ravens before taking the head job at Iowa. And if you watch the Hawkeyes play every Saturday, you know that their success always begins up front.
Follow me on Twitter at Miller_Dave or send your college football questions to dave.miller@nationalfootballpost.com
Click here to win cash today playing fantasy football with the NFP and FanDuel.