April 10, 2012 -
Dave Miller
Four-down territory: Meyer's Florida legacy
Let's take a look at what's happening across the nation on this Tuesday morning...
• In case you missed it yesterday, Matt Hayes of the Sporting News released his in-depth look into the latter years of the Urban Meyer era at Florida as well as the beginning months of his tenure at Ohio State on the recruiting trail. Among the gems:
— Meyer telling the family of Class of 2012 recruit Stefon Diggs, whom he was recruiting at Ohio State, that he wouldn't let his son go to Florida because of character issues in the locker room — the same locker room in which he led for six seasons.
— drug use among Gator players
— preferential treatment for certain players, those of whom were part of Meyer's "Circle of Trust"
— during the 2008 season, then-receiver Percy Harvin physically attacked wide receivers coach Billy Gonzales and was never disciplined for the incident
In addition, Wisconsin reportedly accused Meyer and his staff of using former Ohio State NFL players to call high school recruits. The Badgers also accused Meyer and his staff of crossing paths during a recruiting dead period with offensive lineman Kyle Dodson, who was committed to Wisconsin at the time but eventually flipped and signed with OSU. The alleged phone calls and path-crossing are NCAA violations.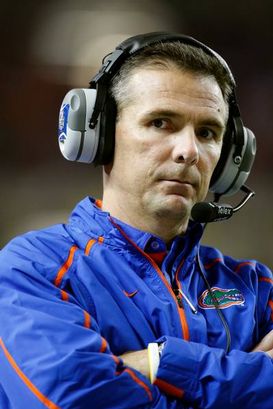 ICONUrban Meyer won two national titles at Florida. But at what expense?
The Florida program under Meyer at the end, according to former safety Bryan Thomas, simply "was out of control."
Of course, some of these issues aren't new to any major program. Frankly, much of this goes on within any school's football team. However, the holier than thou attitude sometimes portrayed by Meyer, especially while he was employed by ESPN, doesn't hold much weight in light of this story. The other issue that this piece shines light on is how difficult of a job Will Muschamp has in cleaning things up in Gainesville as he enters his second season.
• There's been some chatter about Oregon State being primed to bounce back from a couple of rough seasons and return to the postseason. It's a huge year for head coach Mike Riley, one of the good guys in the sport. While the Beavers do return three of their top four receivers, strong backfield depth and a quarterback in Sean Mannion who showed that he had decent pocket presence and pretty good accuracy as a freshman starter, the 2012 fortunes of the Beavers rest with their defense and a rushing attack that ranked 118th in the nation last year.
• Meanwhile, Chip Kelly continues to oversee a quarterback battle in Eugene between Bryan Bennett and Marcus Mariota. Both appear to be even in the race thus far, so we'll see how both perform in late April during the team's spring game. Whoever ends up winning the starting job will have weapons around him, as usual, but I'm more interested to see how Nick Aliotti's defense plays, with seven Rose Bowl starters returning to that unit, plus linebacker Kiko Alonso. Of course, the major question is whether that defense can contain USC's high-powered offensive attack.
• Steve Sarkisian and Washington suffered a tough blow when it was announced that offensive lineman Colin Porter has given up football because of "degenerative arthritis" in both shoulders. The right guard was the Huskies' top offensive lineman, so James Atoe will now try to hold off sophomore Ben Riva for the starting gig. The loss of Porter compounds the team's O-Line problems, as left guard Colin Tanigawa is out for the spring after suffering an ACL injury last November. And right tackle Erik Kohler is still recovering from nagging injuries. With star running back Chris Polk moving onto the NFL, the team's tailbacks may struggle to find running room with a battered offensive line.
Email dave.miller@nationalfootballpost.com or follow me on Twitter at Miller_Dave