January 24, 2013 -
Dave Miller
Four-down territory: Miami out of NCAA hot water?
Let's take a look at what's happening across the nation on this Thursday morning...
• With the news Wednesday that the NCAA uncovered issues of improper conduct during its 22-month investigation into the Miami (FL) program, the Hurricanes will have to wait an undetermined amount of time for their official Notice of Allegations from the governing body. While university president Donna Shalala noted that she was disappointed and frustrated by the NCAA's findings, everyone associated with the 'Canes should feel better about potential penalties after Wednesday's announcement. Because the football program already self-imposed two bowl bans, it would be a bit shocking if another postseason ban is in the team's future. And with the NCAA bungling this investigation and NCAA president Mark Emmert saying he will throw out any of the findings that were improperly obtained, crippling scholarship losses are unlikely as well. However, nobody in Coral Gables should get too comfortable just yet because Emmert said in his press conference that the rogue investigation only affected a small portion of the case. And keep in mind that there was a lot for the NCAA to sort through, although lack of subpoena power made it difficult to get a lot of answers (hence, the governing body hired the outside counsel that improperly obtained information in the first place). It remains to be seen just how much the NCAA was able to corroborate with former players and coaches no matter how damning the Yahoo! Sports investigative piece was when it was released. But there's no question that the 'Canes are sitting prettier this morning.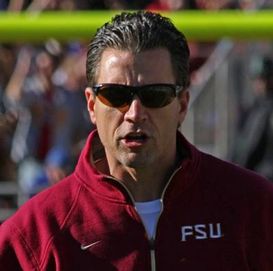 Could James Coley be Miami's new OC?
• Speaking of the 'Canes, I would be surprised if Florida State offensive coordinator James Coley did not make the move to Coral Gables to take the same position on Al Golden's staff. The 39-year-old Miami High and FSU grad has reportedly been offered the play-calling job, and it's one he has to strongly consider because he doesn't currently call plays at FSU. Miami's offense should return 10 starters in 2013, and a move could help Coley continue to ascend the coaching ranks.
• Jim L. Mora and his staff are continuing to do a fantastic job on the recruiting trail in their first full cycle since arriving in Westwood. In addition to the recent commitment of cornerback Johnny Johnson, the Bruins added two more high-quality defensive backs to their secondary Wednesday when Tahaan Goodman chose UCLA over USC and Oklahoma and Priest Willis joined Goodman later in the evening by selecting the Bruins over Arizona State and LSU. Both are Top 10 safeties nationally, though Willis could end up at cornerback and Goodman could even shift to outside linebacker. Meanwhile, the Bruins checked in at No. 12 in this week's National Football Post Top 25 Class of 2013 team recruiting rankings. Certainly, adding these defensive backs will bring them into the Top 10 less than two weeks away from National Signing Day.
• Remember Dave Shinskie? He was the Boston College quarterback who arrived late to campus after dabbling in pro baseball. Well, it looks like Shinskie could be back starting on the gridiron at another school, as Mark Blaudschun of ajerseyguy.com writes that Shinskie could follow former BC offensive coordinator Dave Brock to Delaware. The Eagles starting quarterback in 2009 as a freshman, Shinskie eventually lost the job to Chase Rettig. But Delaware starter Trent Hurley did not have a great junior campaign, so Shinskie could possibly step into Brock's system and play for the Blue Hens without having to sit out next season.