January 24, 2011 -
Dave Miller
Four-down territory: More A&M-to-SEC speculation
Here's what's happening across the nation on this Monday morning.
• If it's a college football offseason, then there will be conference realignment talk. And Kirk Bohls of the Austin American-Statesman is leading the speculation this morning, writing that Texas' television deal with ESPN could send in-state rival Texas A&M clamoring for the SEC — the idea being that the Longhorns clearly have their interests above any allegiance to the Big 12, so why should any school act any different? Of course, this move seems unlikely. But Bohls writes that if the SEC were to offer a deal to the Aggies — and the league reportedly did when conference realignment dominated the summer college football conversation — fans shouldn't be surprised to see A&M leave.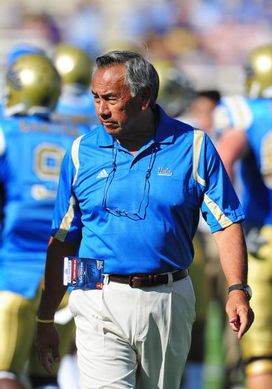 ICONNorm Chow has officially landed in Salt Lake City.
• The Norm Chow era is officially over at UCLA, as the veteran coach was hired as Utah's offensive coordinator over the weekend. Despite the offensive woes of the Bruins in 2010, this is a great hire for the Utes. Chow obviously has a pulse on the Pac-12, having been at USC, where he won two national championships, before joining Rick Neuheisel in Westwood. Utah will be in the same division as the Bruins and Trojans, and his knowledge of some of the defensive schemes played around the league is an added bonus for Utah head coach Kyle Whittingham. Most importantly, however, Chow will help an offense that scored a combined 13 points its three losses last season. Quarterback Jordan Wynn struggled with his consistency, and working with Chow on a daily basis will serve him well. However, he will miss the spring with a shoulder injury after battling a sprained thumb early in the season. Chow said he doesn't envision overhauling the offense, but look for the Utes to possibly call more downhill running plays. However, they'll have to replace the rushing duo of Eddie Wide and Matt Asiata. Highly touted prospect Harvey Langi, who has given a verbal commitment to the Utes, and junior-college transfer John White could see significant action. It will also be interesting how Whittingham handles the reassigning of co-offensive coordinators Dave Schramm and Aaron Roderick.
• The father of quarterback Tom Savage is not happy that Rutgers will not allow him to speak with Miami, Florida, Florida State or Michigan as the former Scarlet Knight quarterback seeks a transfer. Neither Rutgers head coach Greg Schiano nor the school cited a reason for the decision, and the former high school All-American is appealing the decision, according to his father. "Miami called his high school coach and said they really like Tom and he would fit well in their offense and they are really interested," Tom Savage Sr. told The Miami Herald. "Tom is interested. He has always loved Miami." Rutgers and Miami are in different conferences, of course, and the teams do not play during the next three seasons. So it's interesting that Schiano would put these limitations in place. The head coach reportedly has said Savage could speak with Marshall, Western Michigan, North Illinois and Arizona. Savage's appeal will be heard within 10 days by three Rutgers professors. Rated by Rivals.com as the eighth-best quarterback prospect in the 2009 class, Savage had 14 touchdown passes and seven interceptions as a freshman starter in '09 before losing his starting job after he was injured early in his sophomore season.
• A pair of Oklahoma Sooners ran into trouble with the law over the weekend, as true freshmen Kenny Stills and Tony Jefferson were arrested on Friday night. Stills, a wide receiver who started all 14 games in 2010 and was second on the team in receptions, was charged with misdemeanor DUI while Jefferson, a safety who recorded 65 tackles last season playing primarily nickel back, was charged with interference with the official process. Based on some similar infractions in the past, it's likely that head coach Bob Stoops would issue one-game suspensions for the pair. OU opens the season against Tulsa before visiting Florida State on Sept. 17 — a game that figures to be one of the best of 2011. With Ryan Broyles coming back for his senior season, potentially losing Stills for a game won't be too much of a problem. Jefferson's absence could have a bigger effect, as last year's starting safeties, Quinton Carter and Jonathan Nelson, are both graduating.
Email dave.miller@nationalfootballpost.com or follow me on Twitter at Miller_Dave
Want to work in the NFL? Click here to sign up for the NFP's "Chalk Talk at the Combine" Seminar February 25 in Indianapolis.