February 09, 2012 -
Dave Miller
Four-down territory: More Big East craziness
Let's take a look at what's happening across the nation on this Thursday morning...
• Conference expansion is back at the forefront this offseason, as Memphis accepted the Big East's invite to become an all-sports member beginning in 2013, helping the league become a 12-team football league that can hold a championship game. Big East commissioner John Marinatto called Memphis a "perfect fit," and the Tigers had wanted to join the league back in 2005 when the league last underwent a makeover but were passed over for Louisville. In recent months, the Big East has acquired Boise State and San Diego State from the Mountain West for football only, while C-USA members Houston, SMU and Central Florida will become members in all sports. Navy football will also join the league, but that won't happen until 2015. While the aforementioned programs will join in 2013, Marinatto still has a dilemma: the fully integrated Big East isn't scheduled to be in effect until 2015, so Memphis gives the league just 11 members until then, which is one short of the 12 needed to hold a conference championship game. And he said there are no plans to ask the NCAA for a waiver to play a title game. Marinatto added that the league would not stage a conference title game until Navy becomes its 12th football member. But what if conference expansion isn't over for other conferences and programs such as Louisville, Rutgers and/or Connecticut jump ship? It is still unclear how and when West Virginia, Pittsburgh and Syracuse will depart, as the Mountaineers and the league are currently in a legal struggle. Marinatto expects all three of the departing schools to remain in the Big East for two more seasons, but that doesn't seem likely. According to Brett McMurphy of CBSSports.com, the Big East and West Virginia are nearing a settlement worth at least $20 million that would allow the Mountaineers to play in the Big 12 next season. However, the Mountaineers need to be able to convince a future Big East member to join in 2012 instead of 2013 so that the league won't be left with only seven football members this fall -- something that would leave Big East schools scrambling to find a 12th opponent. This assist from WVU would also reportedly lower its buyout. Boise State is reportedly the top choice to enter the Big East a year early, so stay tuned.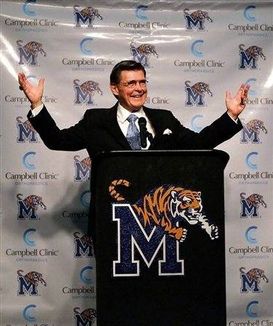 Memphis athletic director R.C. Johnson is all smiles with the Tigers headed to the Big East.
• For Memphis, the football program has struggled with consistency despite being located in fertile recruiting ground. The Tigers made just one bowl game before 2003, and it's been woeful the last three seasons after a nice postseason run from 2003-08. Now, former TCU co-offensive coordinator Justin Fuente will try to navigate the Tigers through what remains, at least for now, a BCS league. It's a program that has undergone stadium and facilities upgrades, and it has FedEx founder Fred Smith behind it, who immensely supports the school. Perhaps a move to a larger league with more television exposure can get Memphis over the hump and back to its winning ways.
• No matter what happens with the Big East, look for Conference USA's board of directors to discuss a full merger with the Mountain West, according to Andy Katz of ESPN.com. A union of some sort was always a strong possibility, but the loss of Memphis will truly put the wheels in motion with C-USA already dealing with future losses of Houston, SMU and Central Florida. At this point, combining forces to make one league as strong as possible as opposed to having two weak conferences is the best option for both parties.
• Iowa finally announced its new defensive coordinator on Tuesday, as defensive backs coach Phil Parker was promoted to replace Norm Parker (no relation), who retired after 13 seasons at the school. Phil Parker has coached the Hawkeyes' defensive backs for the past 13 seasons after spending the previous 11 years coaching DB's at Toledo. He had been mentioned as the top candidate to take over as DC, but many wondered if perhaps the Hawkeyes were looking outside of the program as this process lengthened. And while some Hawkeye fans were clamoring for former Michigan defensive coordinator Jim Herrmann, Parker certainly paid his dues during his time in Iowa City. Expect a very similar approach on defense for the team moving forward, as it finished in the top 10 nationally in scoring defense from 2008-10 while playing with strong fundamentals within its traditional four-man front. In addition to announcing the Parker promotion, head coach Kirk Ferentz said that offensive line coach Reese Morgan will switch over to the defensive line and replace Rick Kaczenski, who left earlier in the offseason to coach Nebraska's defensive linemen. That's a bit of a surprise considering Morgan only coached offense at Iowa and the team's defensive line is a concern heading into next fall. Linebackers coach Darrell Wilson will now coach the team's defensive backs, meaning LBs coach is the lone vacancy on the defensive side of the ball that needs to be filled. However, Ferentz still must name an offensive coordinator to replace Ken O'Keefe as well as an offensive line coach to replace Morgan. Speculation is that New England Patriots assistant Brian Ferentz could return to Iowa City as the O-Line coach. It will be interesting to see if wide receivers coach Erik Campbell is promoted to OC. Ferentz said at a news conference Wednesday that he's going to be open-minded in considering who replaces O'Keefe, but look for the Hawkeyes to not deviate from the offense run the last 13 years. "The big thing is, we'll try to fit the personnel we have and that changes year-to-year," Ferentz said. "We've got to block, we've to make the makeable plays and make sure we're doing a good job in turnover ratio."
Email dave.miller@nationalfootballpost.com or follow me on Twitter at Miller_Dave