July 14, 2012 -
Dave Miller
Four-down territory: NCAA sanctions for Penn State?
Let's take a look at what's happening across the nation on this Saturday morning...
• There's been a lot of discussion over the last several months — and throughout the day Thursday and Friday across the Web, in particular — as to whether the NCAA should step in and severely punish Penn State for the school's cover-up in the Jerry Sandusky sexual abuse case. Various columns and tweets from national media members have debated whether the NCAA should use its power as college athletics' governing body to investigate and punish the school if necessary. While we all hope that justice is served and the school's top officials involved receive their just punishment, I've maintained that because this is a criminal issue it almosts makes the NCAA's involvement trivial.
However, I have changed my tune a bit since the Freeh Report was released. And it changed not from the Sandusky case itself but from some of the details involving former head coach Joe Paterno's actions. It turns out that the NCAA can find cause for action because of Paterno's alleged role in giving football players preferential treatment.
In a 2005 email to Penn State president Graham Spanier, standards and conduct officer Vicky Triponey complained that Paterno insisted that any violation of school standards by a football player should be of his concern — the inference being that football players should be treated differently than other students. Having players held to a different code of conduct than average students is against NCAA bylaws. And if top school administrators had control over athletics while Paterno allegedly had Triponey forced out for not complying with his agenda, that is a clear lack of institutional control.
So Penn State could be in trouble without the NCAA even getting into the Sandusky case. The sport's governing body seemingly could easily find that top Penn State officials lacked institutional control over the football program and let Paterno assume an incredible amount of power, which led to some of his players receiving lesser discipline for actions that otherwise would be punishable for average students.
The NCAA should be ready to investigate because this lack of institutional control essentially enabled Sandusky to continue to prey on his victims. I can definitely see the Committee on Infractions looking into the entire program, especially because not conducting a full review would create major public outcry.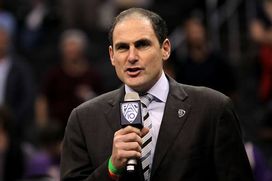 Not every member of Larry Scott's Pac-12 wanted to play a Big Ten team every season.
• The Big Ten and Pac-12 won't be starting their interconference series in 2017 after all. And, as of now, it won't be starting any time after that either. The two conferences sent out releases Friday stating that the series is off because of football scheduling issues involving several Pac-12 schools. Twelve games per year between Big Ten and Pac-12 teams were scheduled to take place, and the agreement also involved other sports and the leagues' TV networks. ESPN.com reports that several Pac-12 schools had reservations about a scheduling agreement because the West Coast league plays nine conference games per season, and teams such as USC and Stanford already have noncon games against Notre Dame. At least four Pac-12 schools reportedly decided they would not accept mandatory scheduling, and the Big Ten wanted all members on board or none at all. Because of this scheduling collapse and the fact that I don't think the Big Ten would try to hook up with another league for interconference games, the Big Ten certainly now may consider increasing its conference games per year from eight to nine — especially with strength of schedule expected to be a part of the selection committee's criteria for the impending four-team playoff system.
• Missouri starting quarterback James Franklin is recovering very nicely from shoulder surgery that knocked him out of spring drills. Franklin, who tore the labrum in his throwing shoulder, should be fully healthy for the start of the season and could even be ready to work at an accelerated pace at the start of preseason camp as he is ahead of schedule in his rehab. And that's great news for head coach Gary Pinkel and the Tigers as they transition into the tough SEC. One of the most intriguing storylines for the 2012 season is how Mizzou and Texas A&M will fare in their first season in a new conference after leaving the Big 12. And the Tigers will need Franklin because they have serious depth concerns at the quarterback position.
• Have you taken a look at the first half of Washington's schedule? Steve Sarkisian and the Huskies have to play LSU, Stanford, Oregon and USC in their first six contests, with the other two games coming against San Diego State and Portland State. The Huskies have made postseason appearances the last two years, and the team's recruiting efforts have been very fruitful recently. But fans may be better off lowering expectations this season, especially with star running back Chris Polk no longer in Seattle. However, quarterback Keith Price has a year under his belt as the starter and could be primed for a big campaign. But it's a safe bet that nobody in college football will play a tougher schedule in the first half. New coordinator Justin Wilcox's defense will be tested early.
Email dave.miller@nationalfootballpost.com or follow me on Twitter at Miller_Dave