July 07, 2012 -
Dave Miller
Four-down territory: Nkemdiche's power play
Let's take a look at what's happening across the nation on this Saturday morning...
• The top player in the Class of 2013, Georgia defensive end Robert Nkemdiche, says that his verbal commitment to Clemson is a "done deal" — if Tigers head coach Dabo Swinney offers a scholarship to another prep teammate. Nkemdiche told Michael Carvell of the Atlanta Journal-Constitution that he wants the Tigers to offer Grayson High School teammate Ryan Carter as well, noting that the main reason he picked Clemson over LSU and Alabama, among others, in the first place was because Swinney and Co. already had commitments from fellow Grayson teammates Wayne Gallman and David Kamara. In addition, former Grayson quarterback Nick Schuessler relinquished his football scholarship to Mississippi State to be a preferred walk-on at Clemson. Carter, a safety, said he's had limited contact with Clemson but would probably commit quickly if they offered a scholarship. But what if Clemson does not offer Carter a spot? Nkemdiche said he would look at Ole Miss a little more in that case because the Rebels offered Carter, and Nkemdiche has stressed that it's important to have his close teammates make the leap to the college game with him. Nkemdiche's older brother also plays in Oxford. Carter, though, remains the X-factor. While the idea of "package deals" is nothing new to big-time college athletics, particularly major-college football, has it ever involved such a high-profile recruit? It's true that at no time has recruiting seen such a vast amount of coverage with message boards and social media prevalent. But when you're talking about the nation's top player — and Nkemdiche is the best overall player in the Class of 2013 — it's disappointing to hear such a statement coming from him in regards to his recruitment. Although, in the big-money world of college sports, Nkemdiche is certainly owning his moment while he has it and before he essentially becomes a school's property.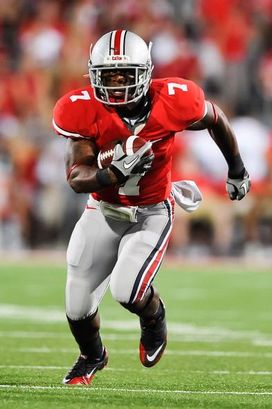 Can Jordan Hall have a speedy recovery and see the field sooner than expected?
• Who will replace Jordan Hall and fill the "Percy Harvin" role in Urban Meyer's offense at Ohio State while the senior running back recovers from his foot injury? While Meyer is unsure who will step into that hybrid running back/wide receiver role, the former Florida head coach is hopeful that Philly Brown continues to improve. Keep in mind, however, that the Buckeyes were short on playmakers last fall. While quarterback Braxton Miller will help lead a newfound focus on the ground game in the spread offense, the passing game needs to flourish with options other than tight end Jake Stoneburner. The coaching staff is hopeful that freshman receiver Michael Thomas can build off of his strong spring game, Brown continues to mature and that Hall doesn't miss too much time.
• As the SEC helps Missouri and Texas A&M transition into their new league, there is plenty of work to be done moving forward. Specifically in terms of scheduling beyond the 2013 season. The league recently approved a 6-1-1 rotation for football, so teams will play six divisional opponents, a permanent rival and one rotating team from the opposite division. The adoption of a four-team playoff, however, has placed an emphasis on strength of schedules. Could a nine-game conference schedule beyond the 2014 season be on the horizon? It would help a league that takes a lot of criticism nationally for its weaker nonconference foes. Along with the Big 12, SEC teams play a lot of noncon cupcakes. Of course, the league wants to protect nonconference rivalries such as Florida-Florida State, Georgia-Georgia Tech and South Carolina-Clemson. It's certainly something to keep an eye on as we inch closer toward a national playoff.
• So Alabama State, whose recent APR score is ranked 239th out of 243 Division I football schools and who lost 15 scholarship players before last season due to academics, added former SEC freshman of the year Isaiah Crowell after he was dismissed by Georgia head coach Mark Richt. The same Crowell who managed to get suspended twice last season and whose recent arrest on felony gun charges led to his dismissal from the Bulldogs. I guess if you're talented, you get fourth, fifth and maybe even sixth chances. Here's hoping that Crowell puts past his off-the-field issues and has a smooth life moving forward. But to land at another football program while felony gun charges hang over his head? Really?
Email dave.miller@nationalfootballpost.com or follow me on Twitter at Miller_Dave