April 25, 2011 -
Dave Miller
Four-down territory: Ohio State's penalties could be severe
Four-down territory runs every Monday, Wednesday and Friday morning during the offseason.
• As The Columbus Dispatch reports on Monday morning, Ohio State could be facing very harsh NCAA penalties for Jim Tressel's failure to report his knowledge of violations and use of ineligible players during the 2010 season. University president E. Gordon Gee received a notice of allegations on Friday which accused the longtime Buckeyes head coach of dishonesty for hiding violations by players. However, the school was not cited for "failure of institutional control" violations. That's about the only good news because such violations likely would lead to penalties of a much harsher nature. While I can't see the NCAA just accepting the university's self-imposed sanctions of a $250,000 fine and five-game suspension of Tressel, it remains to be seen whether potential sanctions could include a ban from eligibility for the Big Ten championship and a bowl game as well as being stripped of victories and the Big Ten title from 2010. Ohio State could be treated by the NCAA as a repeat offender because of violations involving former quarterback Troy Smith as well as former head basketball coach Jim O'Brien. Penalties for repeat offenders would decimate the program. However, as of now, Tressel is the only person in the athletic department to have violated NCAA rules, so that helps the university's case. Get all the lowdown from Randy Ludlow, Mike Wagner and Jill Riepenhoff of The Dispatch.
Check out how the Ohio State quarterbacks who are vying to replace the suspended Terrelle Pryor fared in Saturday's spring scrimmage.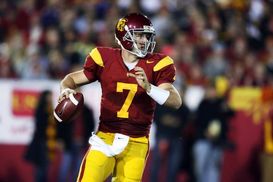 ICONMatt Barkley wasn't very accurate in USC's spring scrimmage on Saturday.
• USC held its spring-concluding scrimmage at the Coliseum on Saturday, and one of the standout areas of the entire spring continued to be the pass defense. Obviously, the Trojans can't be much worse defending the pass than they were in 2010. But with quarterbacks Matt Barkley and Jesse Scroggins combining for three interceptions, defensive coordinator Monte Kiffin obviously has to be pleased with his unit. Brian Baucham, a backup cornerback, picked off Barkley, and freshman corner Anthony Brown picked off Scroggins in the end zone. In addition, junior linebacker Dallas Kelley had a nice one-handed pick of a Barkley pass over the middle. Keep in mind that 'SC will get even more defensive ammunition when more players arrive for fall camp. In addition, overall defensively, senior linebackers Shane Horton and Chris Galippo, junior linebacker Devon Kennard and senior defensive tackles Christian Tupou and Armond Armstead missed all or most of the spring.
One other USC note: Barkley needs to play much better than he did on Saturday. Sure, he didn't have Robert Woods and most of his receiving corps, and the offensive line is nowhere near where it will be in the fall, but the junior signal caller wasn't very accurate — and he didn't even have to worry about blitzing because it wasn't allowed. He's going to have a lot of weapons in the fall, but it's up to him to utilize them and max out this offense.
• Rising junior Morgan Newton had an excellent spring game for Kentucky on Saturday, as he surpassed 250 yards through the air and connected for three scores. As expected, he's well ahead of true freshman Maxwell Smith and fellow true freshman Theltus Cobbins. However, no clear-cut winner has emerged in the battle for the starting running back gig. Raymond Sanders and Jonathan George have been receiving most of the carries, but it will be interesting to see what happens when Marcus Caffey and Josh Clemons arrive in Lexington. According to the Herald-Leader, head coach Joker Phillips said that all four will have a chance to assume the starting job, with Sanders having just a slight edge right now.
• As I wrote in my Friday afternoon post at the NFP, no winner has emerged yet in Seattle in the battle to replace longtime starter Jake Locker under center. But Huskies head coach Steve Sarkisian praised Keith Price after the team's scrimmage on Saturday. According to the Seattle Times, Sarkisian said Price had the best pocket presence and had slightly better control of the game than redshirt freshman Nick Montana. Unofficially, Price went 15 of 23 through the air for 161 yards and two touchdowns, including a 25-yard score to Jermaine Kearse that was one of the highlights of the day.
Email dave.miller@nationalfootballpost.com or follow me on Twitter at Miller_Dave