April 01, 2011 -
Dave Miller
Four-down territory: Peterson's denial comes into question
• Former LSU cornerback Patrick Peterson, one of the top defenders available in April's NFL Draft, released a statement on Thursday through LSU denying that he has ever had a relationship with Willie Lyles, who has been accused by a former Texas A&M assistant coach of asking for $80,000 from the school for Peterson's commitment when he was a high school recruit. Lyles, of course, is subject of an NCAA investigation into the Oregon program after receiving $25,000 from the Ducks for recruiting services. At issue is whether Lyles steered players under their direction to Eugene.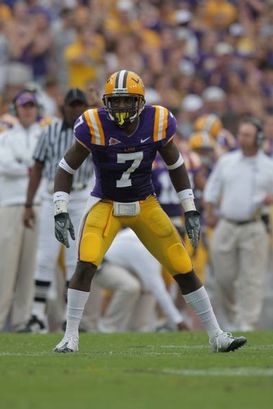 ICONPatrick Peterson denied ever having a relationship with Willie Lyles.
Despite Peterson denying any relationship with Lyles, it was revealed later on Thursday that a writer for Rivals.com's Texas A&M website wrote a piece about an unofficial visit made by Peterson to A&M in 2007 in which Peterson and his father were with Lyles at the time. In the story, Peterson said that he was with his dad in Houston when his dad's friend suggested a visit to College Station. And the father's friend was reportedly Lyles, as confirmed by the writer of the story — Brian Perroni — via Twitter on Thursday. In August 2007, AggieYell.com reported that Peterson visited the Aggies.
This visit to College Station would contradict the text messages Peterson sent to 104.5 ESPN reporter Jordy Culotta, where the former Tiger informed Culotta twice that he never even visited A&M. Those statements also contradict an ESPN report in which Kelly Naqi cites Peterson's father as describing the visit to College Station as "a good trip."
Clearly, Peterson's statement of denial on Thursday comes into major question. In addition, we have to wonder how this could potentially affect the LSU program. And keep in mind that Lyles is still part of an investigation into the Oregon program.
Ugly offseason for college football, that's for sure.
• NCAA president Mark Emmert, who assumed leadership duties roughly six months ago, addressed the media on Thursday at the Final Four and stressed that he wants his organization to assure that penalties for major rule violators are sufficient and firm.
"We cannot have coaches, administrators, parents or student-athletes sitting out there deciding: 'Is this worth the risk? If I conduct myself in this fashion and I get caught, it's still worth the risk,' " Emmert said. "We don't want those kinds of cost-benefit analyses going on."
Emmert assumed his new gig before a number of investigations in college football commenced, including those of Cam Newton, Jim Tressel and the Buckeye Five. Of course, the NCAA also has been involved in issues involving former Tennessee head coach Bruce Pearl and Connecticut's Jim Calhoun in the college basketball ranks.
Emmert discussed the level of authority he possesses in light of being under increased scrutiny from the media that he has been soft on violators of NCAA rules during his short period of leadership.
Regarding the Fiesta Bowl drama that is currently being probed, Emmert notes that bowls could lose their sanction from the NCAA if run improperly off the field.
"The problems of the Fiesta Bowl as repugnant as they are, shouldn't be used as a broad-based indictment of all the bowls," Emmert said. "The NCAA has responsibility for licensing those bowls. We want to make sure that we're doing that appropriately. It remains a limited role, but one we need to take seriously. We need to make sure that we include in that process the assessment that the bowls are being run consistent with the values of intercollegiate athletics and the NCAA."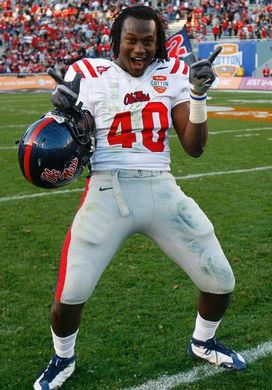 ICONDefensive end Kentrell Lockett will be back in Oxford for a sixth season.
• Ole Miss received some good news on Thursday when star defensive end Kentrell Lockett received a sixth year of eligibility. Tyrone Nix's defense would have been sorley lacking an established pass rusher as well as a top leader on the unit if Lockett was not given the good news. The Rebels are coming off a subpar defensive campaign, and Lockett will join linebacker D.T. Shackelford as one of the team's few impact defenders Nix can lean on while he brings younger players along. Lockett had five sacks in 2009, but his season came to an end in the fourth game last season when he tore his ACL. He won his appeal with the NCAA for a sixth season, however, based on medical hardship. Lockett will miss the rest of spring practice while he finishes up his rehab, but he should be 100 percent when fall rolls around.
• Greg Mattison continues to implement his new defense at Michigan, and two playmakers have emerged in the process for the former Baltimore Ravens coordinator. While the Wolverine defenders continue to learn the new scheme, outside linebacker Cam Gordon and defensive end Jibreel Black have impressed. Gordon will play the Sam linebacker in Michigan's 4-3, and Mattison noted that he has improved the most over the course of the offseason and that the hopes are high for the former wide receiver and safety. Black, meanwhile, has drawn comparisons to teammate Craig Roh. Both are rising sophomores expected to be key contributors in the Wolverines' defense in the fall.
Email dave.miller@nationalfootballpost.com or follow me on Twitter at Miller_Dave