July 30, 2010 -
Dave Miller
Four-down territory: preseason Heisman talk
…Can a wide receiver win the Heisman Trophy this season? Most college football fans would think absolutely not, but Dave Sittler of the Tulsa World (along with Oklahoma head coach Bob Stoops) doesn't think it's an impossibility, writing that Sooners junior wide receiver Ryan Broyles could be a candidate for the award.
While he acknowledges that it's a long shot to win, Sittler compares Broyles' sophomore season to the Heisman-winning 1972 campaign of Nebraska's Johnny Rodgers. Looking at all-purpose yards, Broyles actually outgained Rodgers 1,776 to 1,744.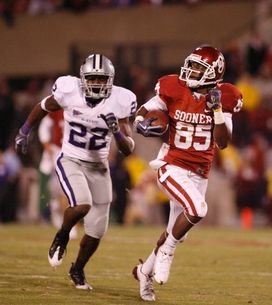 ICONCan Ryan Broyles pull a Johnny Rodgers and claim the Heisman as a wideout?
For a wideout to legitimately entrench himself into the Heisman race, making an impact in other areas of the game is essential — whether it's on special teams or gadget plays. Broyles has shown that he can gain yards in bunches, whether on a reverse or a punt return. Stoops calls him "the most versatile player we've had."
The wideout finished 2009 with two statement performances — 316 all-purpose yards against Oklahoma State and 13 catches for 156 yards and three TDs in the Sun Bowl. More games like that in the early part of this season could generate the necessary buzz for Broyles.
Of course, running back DeMarco Murray likely remains the Sooners' best candidate for the award — if he can remain healthy for an entire season. I've been a big supporter of the Murray cause throughout the offseason, so I expect him to be able to stay on the field in 2010.
…In case you missed my ranking of Big Ten running backs on Monday, Wisconsin's John Clay topped the list as expected. The conference's reigning offensive player of the year logged 1,517 yards and 18 TDs last season while not even being 100 percent healthy. But after undergoing minor procedures on both of his ankles and missing all of spring practice, Badgers fans are excited about a well-rested Clay entering 2010.
So is head coach Bret Bielema.
After focusing on his conditioning and dropping roughly 10 pounds, Clay looks ready to go already.
"He came in (Wednesday) for a meeting," Bielema said. "I was just psyched the way he looked."
"The formula here at Wisconsin has been that if John Clay has the numbers that we want him to have and we need him to have, he will be right in the mix for the Heisman," the coach declared.
If Clay was playing on gimpy ankles last season and still managed to destroy opposing defenses, how much more dominant can the Badger be this fall?
…Twenty-two years after the schools last met, Notre Dame and Miami will resume their legendary rivalry in 2012 at Chicago's Soldier Field, home of the NFL's Bears.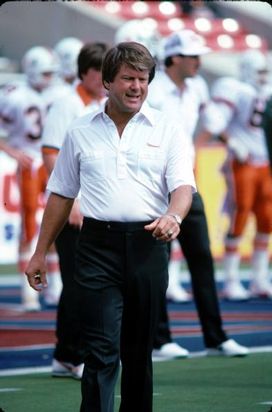 ICONCan we bring back Jimmy Johnson for the revival of Miami-Notre Dame?
The game, which will be held Saturday, Oct. 6, 2012, will resume a rivalry that was halted after 1990 because of bad blood between the universities. The schools also announced they will meet in a home-and-home series in 2016 and 2017.
Dubbed by the media and known by many college football fans as "Catholics vs. Convicts" in the late 1980s, the rivalry between the independent and now-ACC member was highlighted by a fight between the teams in the tunnel of Notre Dame Stadium in 1988, a game the Fighting Irish won 31-30 en route to their last national title. The Irish lead the all-time series, 15-7-1.
Not yet pumped up for the game? Check out one of the greatest intro's of all-time. And, of course, the clip features the great Brent Musburger.
…As we all know, Colorado head coach Dan Hawkins occupies one of the hottest seats in America. He has promised a turnaround in Boulder before but has yet to deliver. One of the biggest storylines for the Buffaloes when they open camp is the quarterback situation, where senior Cody Hawkins and junior Tyler Hansen will battle it out for the starting job. But according to senior wide receiver Scotty McKnight, Hansen will ultimately win the competition.
"[Hansen's] taken all the reps with the ones this summer," McKnight. "He's run all the player-run practices. He's taken that leadership role on and guys have really accepted it and they love it…People react well to Tyler."
Hawkins has said that he doesn't see much difference between the two combatants and that he won't name a starter until midway through camp. I wonder if some of McKnight's teammates share his high praise of Hansen.
"He's kind of transitioned himself this offseason from being a running quarterback who has a good arm to now he knows his reads, he knows the protections, the defenses and all of that," McKnight said. "All the different things that go into being a quarterback. He's gotten so much better. He's more of a pocket passer who also now has the ability to elude defenses and run."
While Hawkins is the son of the coach, there's no question that he has struggled throughout his career in Boulder, and he finished last season on the bench as Hansen started down the stretch. Most CU fans won't be happy if Hawkins starts, but winning will change anyone's mind.
The most interesting word McKnight used in his praise of Hansen was 'leadership' — and that's all the Buffaloes need when they face Colorado State on Sept. 4.
Follow me on Twitter at Miller_Dave or send your college football questions to dave.miller@nationalfootballpost.com
Ready for fantasy football? Click here to purchase the 2010 Total Access Pass/Draft Guide from the NFP.