January 02, 2011 -
Dave Miller
Four-down territory: Richt's future at Georgia
• As Georgia fans know painfully well, the Bulldogs looked awful in their Liberty Bowl loss to Central Florida on New Year's Eve. While UCF's defense helped pave the way toward the C-USA championship, the fact is that Georgia has too much talent on offense to sputter as it did against the Knights following its long opening drive. And the team had too much talent to finish the season with a losing record (6-7). I don't think Mark Richt is going to lose his job, but with a new athletic director in Greg McGarity, Richt unquestionably enters 2011 on one of the hottest seats in the country after the team suffered its first losing season in 14 years. I think former Bulldogs defensive back Kirby Smart, who runs Alabama's defense, would be a slam-dunk hire. But will he get an offer to coach somewhere else before then? I don't think even a four-loss season will be good enough next year in Athens, as Richt has now lost 12 games in his last two seasons. There has been too much material on the roster to suffer that many losses, especially in a season where a young quarterback was the least of the team's concerns.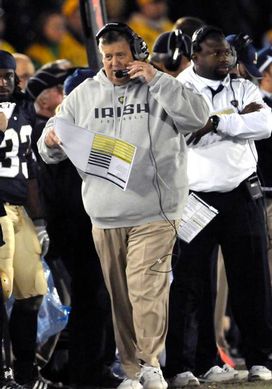 ICONCharlie Weis will be headed back to the college game after a one-year return to the NFL.
• I love the Charlie Weis hire at Florida, and it's becoming clear that Will Muschamp has the right idea in Gainesville: surround yourself with coaches who will make your transition as a head man as seamless as possible. Weis, the former Notre Dame head coach and longtime NFL assistant, tutored Tom Brady and Matt Cassel with the New England Patriots, and he worked with Brady Quinn and Jimmy Clausen in South Bend. Now, he'll get a chance to mold John Brantley as well as one of the top quarterback prospects in the country, commitment Jeff Driskel. However, the biggest question is how Weis will be able to sell himself to Gators recruits and their families. Because of his personality, it isn't easy to be comfortable around him. Did his experience at ND humble him? And how will he deal with the media in SEC country? It's going to be a fun year in Gainesville in 2011, that's for sure.
• With Mike Haywood being dismissed from Pittsburgh before he ever had a chance to coach a game at Heinz Field, the Pitt administration will now go back to the drawing board and try to find a new face of the program. Because Haywood had the offensive background, it appears that the brass wants to hire someone with a similar expertise. But I still can't understand why Virginia Tech's Bud Foster didn't emerge as a serious candidate for an opening this offseason. The defensive coordinator worked wonders with a young unit this season in Blacksburg, and his blue-collar approach would be perfect in the Iron City. All he does is produce great defenses, and he is familiar with Pitt from the Hokies' time in the Big East. Interestingly, Pittsburgh and Virginia Tech are scheduled for a home-and-home in 2012 and '13. I know athletic director Steve Pederson wanted to hire an established head coach, but Foster seems too perfect of a coach to pass up.
• The Rich Rodriguez-to-Maryland rumors are really picking up steam, and you have to wonder if there is some serious validity to them. First thing is first, though: does Dave Brandon pull the plug on the Rich Rod era in Ann Arbor? The buyout number for Rich Rod's contract does drop because a potential firing would come after the team's bowl game. No matter how bad the defense has been, I still think Rodriguez gets another year IF and ONLY IF Stanford's Jim Harbaugh doesn't want the job. For 2011, I don't see anyone besides Rodriguez or Harbaugh roaming the sideline at Michigan Stadium.
Email dave.miller@nationalfootballpost.com or follow me on Twitter at Miller_Dave