February 27, 2013 -
Dave Miller
Four-down territory: Scott's rising stock
Let's take a look at what's happening across the nation on this Wednesday morning...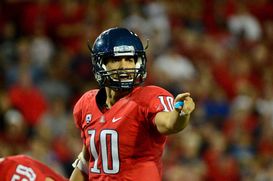 US PRESSWIREMatt Scott is a QB to keep an eye on as the NFL Draft approaches.
• One of the players who I really thought had a chance to rise up NFL Draft boards this offseason was former Arizona quarterback Matt Scott, who had a very good showing in his team's New Mexico Bowl win over Nevada to close out this past season. He also passed for nearly 500 yards in a thrilling overtime showdown with Stanford last fall. However, I did not foresee such a loud buzz to surround the dual-threat signal-caller after catching the eye of scouts across the league at the NFL's Scouting Combine. Scott, whose decision to redshirt in 2011 paid dividends because he was able to showcase his skills in Rich Rodriguez's spread offense, made the most of his lone season as the starter in Tucson. And he was able to showcase his strong arm for NFL personnel this offseason, starting with the East-West Shrine Game. His 40 times registered in the 4.6s in Indy, and he checked in physically stronger than many had figured. There's no question that Scott's value is on the rise especially with the QB class considered weak. While I don't think he has all of the physical tools to make an immediate impact at the next level, he is certainly worth a selection this April. And he's certainly a player that can bring a lot of athleticism to a position that has become more diverse and dynamic with more teams running offenses that are more spread-oriented.
• Replacing Zac Stacy, who was one of the more under-appreciated running backs in the country, is one of Vanderbilt's biggest priorities this spring. Unfortunately for James Franklin and Co., that void will not be filled by 2009 SEC freshman of the year Warren Norman. Norman will hold a press conference Wednesday at Vanderbilt Stadium to announce that he is not returning to football. Although he had one year of eligibility remaining after being used as the Commodores' fourth-string back last season, he has been dealing with knee problems since 2010. Norman was expected to compete for carries with Brian Kimbrow, Wesley Tate, Jerron Seymour and incoming freshman Rapheal Webb. While Kimbrow possesses the most talent of those backs, he's a bit undersized and isn't considered an every-down RB. Tate may have the best chance to land the No. 1 job with Norman out of the mix.
• Pitt administrators upset with home attendance last fall — and the slate at Heinz Field included contests against Youngstown State, Gardner-Webb and Temple — likely won't have to worry about too many subpar opponents next fall. The Panthers will host Florida State on Labor Day to kick off their ACC era, and Paul Chryst's squad will also get Notre Dame and former Big East rival Miami at Heinz Field. It is arguably Pitt's most appealing home slate in a decade. Now the Panthers just have to be able to compete in Year 1 in their new league for fans to be enthused for an entire season.
• It appears that big-armed former Texas A&M quarterback Jameill Showers is transferring to UTEP. The dual-threat signal-caller, who passed for 359 yards and ran for 72 more with three total touchdowns in his two years as a backup in College Station, will have two years of eligibility remaining. The 6-2, 220-pound Texas native was projected to be the Aggies quarterback last season but lost his starting spot to eventual Heisman Trophy winner Johnny Manziel. After the season, he decided to transfer because he wanted to start at another school.