January 11, 2011 -
Dave Miller
Four-down territory: SEC is the king of the mountain
Well that was one hell of a ride, wasn't it? Let's take a look at what's happening around the nation on this Tuesday morning as we deal with our BCS hangovers.
• From a losing campaign in 2008 to national champions two years later, Auburn made it five straight seasons that an SEC team has stood atop the mountain following a BCS title game. Five titles, four different programs. SEC! SEC!...Keep the chant going because no conference can make any sound argument proclaiming that it's better than Mike Slive's juggernaut.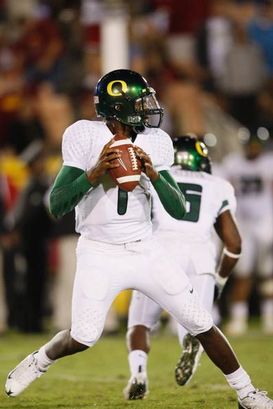 ICONDarron Thomas was overwhelmed without a strong running game.
• In case you missed the cover of today's The Oregonian, check this out. It hurts this morning if you're a Ducks fan, but never lose sight of the fact that it was a fantastic season. And George Schroeder of The Register Guard asks Oregon supporters to keep that in mind in his column. I will say that I was surprised that Ducks head coach Chip Kelly went away from some of the misdirection that was working offensively earlier in the game, as it put a lot of pressure on quarterback Darron Thomas. I know the Ducks needed to move the football when they were down 19-11, but I think they could have still employed a creative run game a little more or at least used traditional screens to ease the load on their sophomore signal caller.
• Okay, so who ya got next week in a hypothetical TCU-Auburn showdown? I think I would truly lean Horned Frogs — until I come to the realization that defensive tackle Nick Fairley would do bad things to quarterback Andy Dalton. There's no doubt it would be close, perhaps along the lines of Monday's game where you never really felt Oregon had a chance yet the Ducks never went away. Ultimately, I think the Tigers would be the last team standing.
• And now we get ready for the Senior Bowl, National Signing Day, NFL Draft preparations, spring practice, more coaching news, etc. It never ends, and it's so great. In just a short time, we will be kicking off the 2011 season. Time really flies, and I can't wait for the first Saturday of the new season.
Email dave.miller@nationalfootballpost.com or follow me on Twitter at Miller_Dave