February 13, 2012 -
Dave Miller
Four-down territory: Shapiro hopes to destroy Miami
Let's take a look at what's happening across the nation on this Monday morning...
• Disgraced former Miami booster Nevin Shapiro is talking a big game from his New Orleans prison, but officials within the The U.'s program aren't too concerned. Shapiro remains angry that he is being painted as a rogue and has designs on taking down the Hurricanes' football program. "The public is going to hate me worse in the next coming months," Shapiro, who is serving a 20-year sentence for a Ponzi scheme, wrote in various e-mails to The Miami Herald over the past few months. "It's going to be severe and catastrophic. My feelings are getting inflamed and I'm going to pop off pretty soon with regards to them and the NCAA. I'm coming for them both [UM and former players] and I'm going to be successful. I'm taking that program down to Chinatown and the former players and links to that program. Why? Because the U.S. government lined up 47 former players to testify against me in open court if I went to trial. That in itself is motivation to shove it up their collective [butts]." Neither school administrators nor Board of Trustee members, however, seem to be concerned about Shapiro's proclamation that "UM is getting the death penalty or damn close to it." It is believed that the NCAA will dismiss claims that can't be corroborated. The Hurricanes expect to hear from the NCAA by early summer, although timetables regarding investigations aren't always consistent. It's almost a certainty that the 'Canes will lose several scholarships, and a one-year bowl ban seems like a lock as well, especially considering Ohio State lost a year of postseason eligibility for its troubles. Of course, comparing NCAA cases isn't the best method to employ when projecting possible sanctions. And keep in mind that the 'Canes wisely self-imposed a bowl ban last season. With only current college players, coaches and employees being required to speak to the NCAA (the governing body doesn't have subpoena power), it may be difficult for Shapiro to have his wish granted for a complete breakdown of the program in Coral Gables despite his claims of more wrongdoing that have not "been brought to light yet." Basically, Shapiro's hopelessly portraying himself as a victim.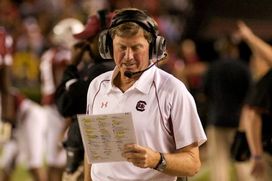 ICONSteve Spurrier has taken South Carolina to new heights the last two seasons.
• Steve Spurrier was rewarded once again for another outstanding season at South Carolina, as his new contract was finally approved by the Board of Trustees on Friday. The new deal will pay him $3.3 million per year through the 2015 season, so it doesn't look like the 66-year-old Head Ball Coach is planning on retiring just yet. It's the second raise Spurrier has received in less than a year, but not many coaches would have been able to do what he has done with this Gamecocks program. They won 11 games for the first time in school history this past season and reached the SEC title game for the first time in team history in 2010. It's also the first time Carolina has won nine or more games in back-to-back seasons. He is now the sixth SEC head coach to make at least $3 million, joining Alabama's Nick Saban, LSU's Les Miles, Arkansas' Bobby Petrino, Auburn's Gene Chizik and Florida's Will Muschamp. And he finally has a quarterback in Connor Shaw that he can trust.
• There's no question LSU should have done a lot of things differently in the BCS national championship game debacle against Alabama. Taking shots down the field no matter who was under center needed to be a part of the game plan at some point. But putting play-calling aside, quarterback Jordan Jefferson didn't help matters with his poor performance, which featured 11-of-17 passing for 53 yards and an interception. He was also sacked four times and fumbled on three occasions, losing possession once. Last Thursday, the dual-threat signal-caller didn't take ownership of his lackluster effort, voicing his frustrations about the direction of the offense to WCNN radio in Atlanta: "I think we should've spread them out a little bit more, put the ball in different passing areas, use our talent on the receiving side. We had that in as far as play-calling. We just didn't get to it. We have great guys in those areas and sometimes we just wonder why we don't use those guys, but we're not the one calling the plays. We still have to go out and execute what the coaches and coordinators are calling. We can't complain as players, but sometimes we do question that." Calling out the offensive staff, including head coach Les Miles, wasn't exactly the classiest way to exit Baton Rouge for Jefferson, whose eligibility has expired. Especially when Miles sang his praises throughout the entire offseason and welcomed him back to the team with open arms after his preseason off-the-field incident. Pointing fingers never helped anybody in any situation. If No. 9 is looking for answers for the Tigers' lack of offense against the Tide, he should start by looking in the mirror.
• Is Rich Rodriguez and Arizona out of the Davonte Neal sweepstakes? The last uncommitted star player in the Class of 2012 is set to make his official announcement Feb. 21, and his finalists are Arizona, Notre Dame and Arkansas. But the receiver/defensive back never made his visit to Tucson this past weekend, citing a "family matter" as the reason for his cancellation. Speculation now is that it's a two-team race for his services. If Neal chooses Notre Dame, he could serve as a nice replacement for wide receiver Deontay Greenberry, who stunned the Irish on National Signing Day by choosing Houston. He could also help the Irish at cornerback, where Ronald Darby and Yuri Wright could have fit in nicely if they had chosen South Bend. Arkansas could also benefit from snagging Neal after the Hogs lost No. 1 overall receiver Dorial Green-Beckham to Missouri.
Email dave.miller@nationalfootballpost.com or follow me on Twitter at Miller_Dave