September 03, 2010 -
Dave Miller
Four-down territory: showcase night for Spurrier
It's getting late in the ballgame and we're down by five. Punting is not an option. We're in four-down territory…
…So maybe the Head Ball Coach will have a nice rhythm to his South Carolina offense this season after all. I was really impressed with the Gamecocks last night in their 41-13 win against Southern Miss. We found out that freshman stud running back Marcus Lattimore will indeed be fed the rock on a consistent basis, as he rushed 14 times and scored two touchdowns, looking beastly on both scores. Oft-criticized quarterback Stephen Garcia also had two rushing scores, as Steve Spurrier did exactly what he stressed he'd do throughout the offseason — rededicated the 'Cocks to the running game. I really like how freshman Ace Sanders was used — a variety of reverses and misdirection plays, one of which went for 53 yards. Spurrier threw in some Wildcat, as well. In addition, sophomore receiver Alshon Jeffery picked up where he left off in his debut campaign with 106 receiving yards.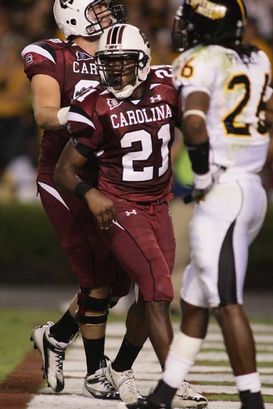 ICONMarcus Lattimore made an impressive debut at South Carolina.
Most impressive aspect of the game? The Gamecocks not only played without star tight Weslye Saunders, who is on suspension, but South Carolina scratched two starters — left tackle Jarriel King and cornerback Chris Culliver — right before kickoff, with the athletic department not providing a reason. Even without Culliver, Golden Eagles standout WR DeAndre Brown didn't catch a ball until the team was down 41-6 in the fourth quarter. Second-most impressive part of the game? Garcia, whose ability to run when under pressure with no open receivers can keep the chains moving in tough SEC contests. We saw Spurrier put him in position to be successful with simple throws and a steady rushing attack. Now, can the Gamecocks ride this momentum into next week's showdown with Georgia?
Pitt's national title hopes ended in a 27-24 overtime loss at Utah, who began its final season in the Mountain West Conference. While they did show a lot of fight coming back from an 11-point deficit in the fourth quarter, Dave Wannstedt's team looked listless at times — not what was expected of a team with such high expectations. New quarterback Tino Sunseri threw an interception on the first play of overtime, and while his overall numbers were solid, he often didn't look comfortable in the pocket. To the Utes' credit, though, their defense consistently pressured the young quarterback. And what happened to Pitt running back Dion Lewis? He certainly didn't have a Heisman showcase game, finishing with 75 rushing yards on 25 carries. Winning the Big East is still the main objective for Pitt, but this was not the way it wanted to open the season. And that pass defense looked woeful.
Meanwhile, Utah finally defeated a nationally ranked opponent to begin a season. Until this victory, the Utes had lost five in a row to AP-ranked teams in season openers. However, all five of those losses occurred on the road. Overall, the Utes showed that they are ready for the Pac-10 next season.
What about USC? Will the Trojans be ready for Pac-10 competition this season? While Lane Kiffin was a winner in his head coaching debut with the squad and the offense — paced by a healthy Ronald Johnson at receiver and an emerging young quarterback in Matt Barkley — was able to go up and down the field, the defense gave up 588 yards to Hawaii and consistently let the Warriors back in the game time and again. Even with Hawaii running 4-WR sets, that won't cut it in Pac-10 play. The defensive line looked disruptive, as expected, but a secondary that lost four starters looked very vulnerable.
Best part of the game? Kiffin going for three straight 2-point conversions after USC's first three scores. Gotta love Lane.
…If Rich Rodriguez — or his successor — could get Michigan turned around soon, we could be looking at many Big Ten championship games involving the Wolverines and Ohio State. And as we learned after the Big Ten announced its divisional breakdown Wednesday night, "rematch" will be the name of the game in those contests.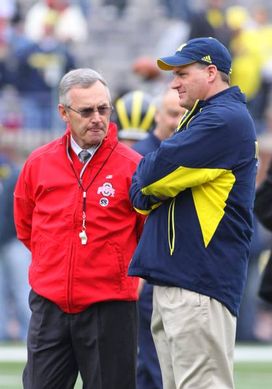 ICONOhio State's Jim Tressel and Michigan's Rich Rodriguez likely aren't talking strategy.
That's because OSU and Michigan will be in different six-team divisions when the league expands to 12 members in 2011.
While no name has been applied to either division, the breakdown is as follows:
I: Michigan, Nebraska, Iowa, Michigan State, Minnesota and Northwestern
II: Ohio State, Penn State, Wisconsin, Illinois, Purdue and Indiana
According to league commissioner Jim Delany, competitive balance in each division was the main priority while maintaining a cross-division rivalry game for each team was also important in reshaping the league.
While it will be hard for college football traditionalists to accept this newly formatted Big Ten, the fact that Delany cited the passionate fans as a reason for keeping the Michigan-Ohio State game at the end of the season definitely shines a nice light on the league at a time when so much negativity surrounds the college game — NCAA investigations, suspensions, conference realignment fueled by the potential for bigger paydays. Granted, the Big Ten's expansion revolves around getting more money for the league. But at the same time, we accept that this game is a business. However, it's nice to know that the voices of passionate fans aren't completely drowned out by the almighty dollar.
One last Big Ten note: while teams will continue to play eight conference games the next two seasons, the athletic directors at the schools will explore a ninth conference game in 2015. This, in essence, will allow teams who aren't involved in any sort of rivalry or trophy game to play each other six out of every ten years rather than four out of every ten seasons. While a ninth game will bring a home/road discrepancy — some teams playing four home games a year, others playing five — how can we not like an extra Big Ten game, right?
All in all, Delany and conference officials performed a pretty good act of damage control in terms of preserving key rivalries and maintaining competitive balance.
…Will BYU remain independent? According to multiple reports, the Cougars continue to have eyes for the Big 12 after their invitation to the Pac-10/Pac-12 apparently was lost in the mail and ended up on Utah's doorsteps. There is growing sentiment in the state of Utah and in Big 12 territory that BYU's decision to go independent in football, starting in 2011, was done to propel itself toward a stronger television deal and BCS inclusion — but in a conference and not on its own. We already know that the university has inked an eight-year deal with ESPN or one of its affiliates to broadcast the Cougars' home games. And a long series with Notre Dame is likely on the horizon, as well. But is that it?
Perhaps BYU really does have intentions to remain independent in football and have its other sports compete in the West Coast Conference. But do we really believe that the Big 12 will remain at 10 members once Nebraska and Colorado leave? And if BYU athletic director Tom Holmoe really does think highly of his Cougars — enough to stand alone as an independent — wouldn't he want to have all the luxury that a major-conference team enjoys: big games every weekend, ability to schedule some cupcakes before the conference season kicks off, a strong TV deal that shares the wealth…Well, I guess that sharing the wealth thing would eliminate the Big 12 now, wouldn't it?
Of course, a high-profile expansion partner, like Arkansas or Notre Dame, would be part of this equation, as well, as the Big 12 has to fill two slots. I'm just looking forward to seeing if BYU has anything up its sleeve. I know that football takes the cake when it comes to comparing revenues from every other sport at an institution. But I wonder how long Holmoe and the Cougars will be happy competing in the WCC in the "secondary" sports. I think it speaks volumes that Holmoe didn't really give a clear answer when he was asked if the Cougars had an escape clause in the agreement with the WCC.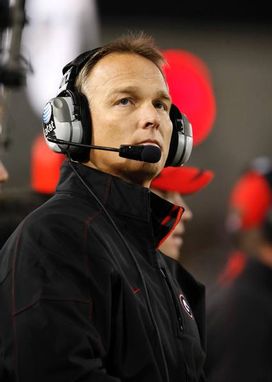 ICONGeorgia's off-the-field issues fall on head coach Mark Richt.
…Is there something in the water in Athens or what? True freshman safety Alec Ogletree, the prize of Georgia's 2010 recruiting class, has been accused of stealing a $35 scooter helmet from a member of Georgia's track and field team. Ogletree, who was expected to see a decent amount of playing time in the season opener, is expected to turn himself in sometime on Friday after a warrant for his arrest was issued on the charge of "theft by taking." Certainly, he won't be available for the game against Louisiana-Lafayette on Saturday.
Now, I understand that kids make mistakes and that Ogletree didn't exactly rob a bank here. But this will be the ninth Bulldog to be arrested since March. March! Mark Bradley of the Atlanta Journal-Constitution writes that the responsibility for these off-the-field transgressions falls on head coach Mark Richt. And even though coaches can't babysit players 24/7, they are essentially paid to do so — or at least have people in place to make sure the school doesn't become a laughingstock. And, frankly, nine arrests in such a short period of time is ludicrous.
I don't know if these problems will hurt Richt with the changing of the guard at the athletics director position following a couple of disappointing seasons, but it certainly doesn't help.
NFP programming note: Saturday morning, be sure to check out the debut of the NFP Saturday Tailgate — your one-stop shop for all things college football. I'll keep you covered and up-to-date on all things college pigskin from all the programs across the nation.
Follow me on Twitter at Miller_Dave or send your college football questions to dave.miller@nationalfootballpost.com
Click here to purchase the Total Access Pass / Fantasy Draft Guide from the NFP.