April 05, 2011 -
Dave Miller
Four-down territory: The NCAA's controversial champions
• How hard do you think NCAA president Mark Emmert was rooting for Butler on Monday night in college basketball's national championship game? With every missed basket by the Bulldogs, who had the worst shooting performance in championship game history (18.8 percent), Emmert had to be cringing at the thought of sharing a stage with Huskies head coach Jim Calhoun, who will sit out the first three games of the Big East schedule next year after being cited for failing to create an atmosphere of compliance within his program. Indeed, after UConn delivered Calhoun his third national championship in an ugly 53-41 victory, there was Emmert and Ohio State athletic director Gene Smith on stage congratulating the Huskies and their leader. Smith, who served as the selection committee's chair this season, knows what it's like to have the NCAA breathing down his neck because of Jim Tressel's situation in Columbus. Although, at this point, you have to wonder just how hard the NCAA will come down on The Vest. After all, the NCAA doesn't exactly pride itself on consistency in its sanctions.
On college basketball's biggest stage in Houston on Monday night, an athletic director dealing with a football coach on suspension handed a championship trophy to a basketball coach who knows that he's facing suspension if he returns for another season. This followed a college football championship game that featured Oregon and Auburn, two teams facing investigations into their programs, as well.
College athletics has never been hotter, right?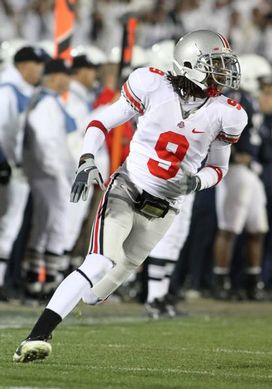 ICONFormer Ohio State WR Duron Carter is taking his talents to Tuscaloosa.
• Former Ohio State wide receiver Duron Carter decided this past weekend that he will enroll at Alabama after playing at Coffeyville (Kan.) Community College in 2010. The son of former Buckeyes and Minnesota Vikings great Cris Carter, the 6-5, 210-pounder will arrive in Tuscaloosa in June and be academically eligible to play right away. Carter, who also considered Oregon, LSU, Miami and Auburn, had 44 catches for 690 yards and 10 touchdowns last season at Coffeyville after leaving Columbus because of academic issues. The Crimson Tide can certainly use a talent like Carter at receiver, especially with the departure of star Julio Jones. In his one season at Ohio State, Carter caught 13 passes for 176 yards before his academic issues led to his departure.
• Maybe Aaron Rodgers can return to Berkeley and rescue Jeff Tedford this spring. The Cal head coach was hoping to trim his list of starting quarterback options down to four players, but he ended up playing six signal callers in recent 11-on-11 drills, according to The Daily Californian. Tedford's assessment of their play? "Not very good," he said.
Still, rising senior Brock Mansion appears to be the leader of the bunch despite sailing several passes on Saturday.
"It's a noticeable difference when he's in as opposed to everybody else," Tedford said.
The Golden Bears have talent at receiver with Marvin Jones and Keenan Allen leading the way. But will they get the ball thrown their way on a consistent enough basis to help in the win column?
• E.J. Manuel is impressing Jimbo Fisher and the rest of the coaching staff in Tallahassee as Florida State prepares for life after Christian Ponder. Manuel has improved his accuracy and consistency, which is good news for the Seminoles because he has thrown 10 interceptions against just six touchdowns in his two seasons of play as Ponder's backup. The 'Noles have high expectations for next season, and solid play out of Manuel undoubtedly will be needed.
Email dave.miller@nationalfootballpost.com or follow me on Twitter at Miller_Dave