December 26, 2010 -
Dave Miller
Four-down territory: The Tressel rumor
With Christmas now in the books, college football takes centerstage as we creep closer to New Year's Day. Here's what's occurring on campus this Sunday morning.
Click here to check out my preview for today's Little Caesars Bowl between Toledo and Florida International.
…In case you missed it on Christmas Day, a story on the ChicagoNow.com website cited two sources stating that Ohio State head coach Jim Tressel will be done coaching the Buckeyes after the Sugar Bowl matchup with Arkansas. The report claimed that Buckeye recruits have been informed that Tressel will not be back as head coach and they can look at other scholarship opportunities. Of course, no commitment is official yet anyway.
Ohio State athletic director Gene Smith promptly responded to the Tressel rumor with the following tweet: Merry Xmas everyone!! Go back to drinking your eggnog!! Rumors not true.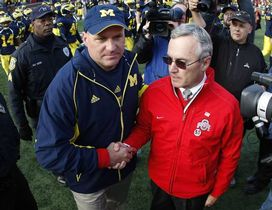 Certainly, at least one of these coaches will be back in 2011.
It has certainly been an eventful last few days for the Ohio State football program. On Thursday, the NCAA announced that quarterback Terrelle Pryor and four other Buckeyes were suspended for the first five games of the 2011 season for accepting improper benefits. However, it was ruled that all can play in the bowl game against Arkansas on Jan. 4.
Bottom line: Even with the suspensions for his star players, Tressel has no reason to leave Columbus and he is in no danger of losing his job. This rumor was just that — rumor.
…Juniors who are positioned to eventually be drafted into the NFL are always in a difficult spot when it comes to staying another year in school or making the jump before their senior season. The NFL's labor situation aside, Oklahoma State quarterback Brandon Weeden is one star who's in a tough spot.
Weeden has only started 12 games for the Cowboys, and he's bound to end up sitting on an NFL sideline for at least a season — impeding his development under center. The rub is that he's not likely to get drafted higher than the third or fourth round, mostly because of his age. Chris Weinke was a three-year starter and a Heisman Trophy winner in a pro-style offense at Florida State, and he was taken in the fourth round. Throw in the spread offense, and Weeden is in a tough spot even if he improves as a senior on his great numbers from 2010. However, it could improve his chances of starting earlier if he stays for his final year in Stillwater.
…Could Ralph Friedgen be on his way to Blacksburg as Frank Beamer's offensive coordinator? We heard the rumor last year when The Fridge was coming off of his 2-10 campaign at Maryland, as the relationship of the two coaches dates back to the 1970s when both were at the Citadel under Bobby Ross. When Beamer then became Murray State's head coach in 1981, he hired Friedgen as his offensive coordinator.
However, it's hard to imagine Friedgen supplanting Bryan Stinespring, who directed a Virginia Tech offense that ran much smoother than in 2009. Stinespring also has been on staff since 1993 and is 16 years younger than Friedgen.
On Thursday, the recently released Terps coach said that he will consider broadcasting in 2011 if the right coaching opportunity doesn't present itself.
…Christian Ponder looks to be ready to play his final game at Florida State in the Dec. 31 Chick-fil-A Bowl after having surgery to remove scar tissue from his upper right forearm. The senior quarterback resumed throwing on Wednesday and is scheduled to return to practice on Sunday, but he has yet to be cleared to play against South Carolina. He will be day to day before doctors determine if there is no risk to playing after surgery.
Ponder said he had no pain or swelling after throwing on Wednesday, but the Seminoles have experienced sophomore E.J. Manuel ready if Ponder can't go.
Email dave.miller@nationalfootballpost.com or follow me on Twitter at Miller_Dave