May 26, 2011 -
Dave Miller
Four-down territory: USC officially won't go bowling
• More than 11 months after the NCAA handed USC harsh penalties from the Reggie Bush case, multiple media outlets reported on Wednesday that the school had its appeal denied by the NCAA's Infractions Appeals Committee.
On Thursday morning, the NCAA made the release official. And based off of some of these comments from members of the 'SC administration, the school isn't too happy.
The Trojans had appealed the penalties handed down, which included the loss of 30 scholarships over three years -- with a maximum of 75 allowed -- and a two-year postseason bowl ban. The school was looking for those penalties to be cut in half, but its appeal was denied completely.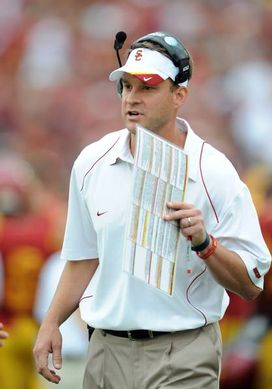 ICONLane Kiffin and his staff are feeling the effects of errors in judgement by the previous regime.
So now, head coach Lane Kiffin and his staff will be allowed to sign no more than 15 players to scholarships for the next three years. For schools not under a penalty, the limit is 25. In addition, USC will not be able to compete for a spot in the first Pac-12 championship game.
But perhaps the most immediate concern is the fact that the NCAA will continue to allow seniors to transfer to another school without sitting out a season.
Will any of Kiffin's current Trojans make the move?
• While the USC appeal has now officially been denied, what about Ohio State head coach Jim Tressel and the Buckeye Five? Perhaps former receiver Ray Small's recent comments to the student newspaper is worth a detailed look if you're on the NCAA committee snooping around Columbus.
Small told The Lantern that he sold his memorabilia for cash and that "everyone was doing it." He noted that he was struggling financially, like other players, and that Ohio State athletes "don't even think about [NCAA] rules."
I wonder how Tressel, athletic director Gene Smith and university president Gordon Gee feel about Small's comments.
Obviously, this story isn't going away any time soon. And the clouds continue to get darker overlooking Columbus.
• Oversigning has increasingly become one of the hot-button issues in college football, especially in the SEC. The league's presidents and athletic directors will discuss some proposals to tackle the issue next week at the conference's spring meetings in Destin, Fla.
Oversigning is the practice where programs ink more players than they have room for under the NCAA's 85-scholarship limit. Scholarship limitations can be reached when players transfer, turn pro or get dismissed. However, the practices of grayshirting, medically disqualifying and, in some cases, releasing players for not being deemed good enough are often employed by coaches.
Presidents and AD's in the SEC have a chance to take a real stand beginning next week if they are serious about shutting down oversigning.
• In case you didn't see it yesterday, Brett McMurphy of CBSSports.com wrote a great piece discussing the possibility of the Big East pursuing Army and Navy as football-only members to help get the league to 12 football squads. Currently, the league has nine football programs, so another school would be needed even if Army and Navy are brought aboard. Villanova, Central Florida, East Carolina and Houston remain in the mix as candidates, as well.
While Army and Navy would be nice fits geographically, I always liked the academies being independents. Although, I am old-school. I mean, I still prefer the BCS to a college playoff system. How messed up is that?
Email dave.miller@nationalfootballpost.com or follow me on Twitter at Miller_Dave