April 12, 2011 -
Dave Miller
Four-down territory: Villanova and the Big East
• The Big East issued a statement on Monday afternoon concerning Villanova delaying its vote on joining the conference in football. Some league members are reportedly concerned by the school's plans and its ability to be a viable component of the conference. Villanova's president, meanwhile, sent out a letter to supporters regarding the delayed vote. The biggest stumbling block to full Big East membership for the Wildcats is Villanova Stadium, which seats only 12,500. I'm not sure what more there is to discuss, unless the Wildcats are able to play at Lincoln Financial Field, which would certainly be mostly empty. Is that the route that 'Nova wants to take? Becoming an FBS member is a big step, and I'm not sure the school is ready. My question is, shouldn't this stadium issue have been more at the forefront at the start of this process before it dragged out?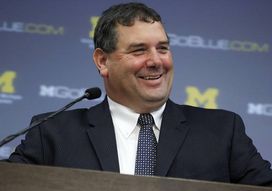 Brady Hoke and the Wolverines won't partake in a traditional spring game this weekend.
• Michigan fans interested to see how their Wolverines look under new head coach Brady Hoke this spring will be disappointed to learn that the team won't hold a traditional spring game on Saturday. The former San Diego State coach announced on the "Inside Michigan Football" radio show Monday night that lack of depth due to injuries on both lines will force the squad to hold a scrimmage at Michigan Stadium to conclude spring drills this weekend. While some situational football will be stressed during the scrimmage, it will mostly consist of the first-string offense against the second-string defense, and the first-team defense versus the second-team offense.
While much of the talk this spring centered on quarterback Denard Robinson adjusting to Al Borges' pro-style offense, the Michigan OC (who was also on the show) noted that the team will still employ three- and four-receiver sets and operate from the shotgun next season.
Defensively, new coordinator Greg Mattison's unit is adjusting from a 3-3-5 scheme to a four-man front.
• It doesn't come as any surprise that Jon Budmayr has remained the frontrunner for the starting quarterback job at Wisconsin. It's going to take a rapid recovery from junior quarterback Curt Phillips from a second ACL surgery for anybody to put any pressure on sophomore Jon Budmayr," Tom Mulhern writes in the Wisconsin State Journal. "Joe Brennan seems to have hit a wall, which is not uncommon for redshirt freshman quarterbacks during spring practices. With everything he has had to process in the last year, he seems to be grinding a bit." While Budmayr isn't the biggest of signal callers, his athleticism should serve him well. Mulhern suggests that the coaching staff will have to use Budmayr's mobility and get him out of the pocket to see downfield because he still has issues with balls being batted down at the line of scrimmage.
• I've seen a lot of love being tossed around to Arizona State for the 2011 season. While it would be great for the fans in Tempe to enjoy a rapid rise up the standings in the first year of the Pac-12, I'm having difficulty seeing double-digit wins and a Pac-12 championship game appearance. The Sun Devils' schedule, particularly the early portion, is very rigorous — contests against Missouri, Illinois, USC and Oregon highlight the slate. Even Utah will be a tough out in the Utes' first season in their new league.
Email dave.miller@nationalfootballpost.com or follow me on Twitter at Miller_Dave