March 30, 2011 -
Dave Miller
Four-down territory: Will the BCS continue to have a Fiesta?
• On Tuesday, The Arizona Republic reported that the Fiesta Bowl could lose its spot in the Bowl Championship Series following the firing of the game's chief executive officer John Junker, who was let go amid multiple investigations of alleged political campaign-finance violations and other financial misconduct. Bill Hancock, the commissioner of the BCS, announced that a task force has been appointed to determine whether the Fiesta will keep its spot as a BCS bowl game as well as determine if other sanctions are necessary. Junker, who oversaw the Fiesta Bowl's growth into one of the country's premiere bowl games in two decades of leadership, had been on leave since these allegations came to the forefront this past winter.
Being kicked out of the BCS would be a huge blow to Arizona's economy. However, despite this fiscal mismanagement by Junker and other Fiesta Bowl reps, the last thing Hancock and members of the BCS committee want to do is shake up a postseason that already is wildly unpopular. There's no question that this task force will do its job, but I'd like to see what would happen if it looked into the financial records of the other BCS bowl games. I think it's safe to speculate that other CEO's of big-time bowl games received a wake-up call with Junker's firing on Tuesday.
But if the Fiesta Bowl did happen to get replaced, which I still maintain is unlikely, let's take a look at some possible replacements.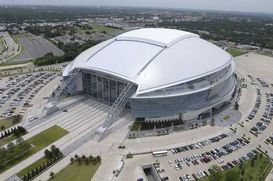 Will Cowboys Stadium be joining the BCS party soon enough?
Cotton Bowl: It has new Cowboys Stadium as well as Jerry Jones. Although, I'm not sure if having Jones is a good or bad thing. However, Dallas didn't exactly get rave reviews from its Super Bowl hosting duties in February. Would the weather for visitors and fans be too much of a factor?
Capital One Bowl: I love the Citrus Bowl, but it isn't BCS-worthy. The city of Orlando once approved a renovation of the facility, but the poor economy slowed the effort. Could a refurbished stadium do the trick for the BCS? This bowl did have an impressive bid the last time the BCS entertained bids for games about a decade ago.
Chick-Fil-A Bowl: The city of Atlanta has held a plethora of major sporting events throughout its history despite not being one of the better sports cities in America. But as is the case with Dallas, Atlanta's weather may not make the city an ideal destination around bowl season.
Outback Bowl: Raymond James Stadium, home of the NFL's Tampa Bay Buccaneers, is a great facility. But it doesn't exude BCS. This would likely be the backup option if the Capital One Bowl couldn't get an upgraded facility.
Still, I can't see the Phoenix area ultimately being dismissed. Perhaps the Junker fiasco was the wake-up call everybody needed.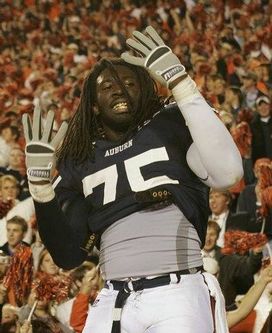 Stanley McClover is one of four former players to have allegedly received money while playing at Auburn.
• Need something to watch on Wednesday night besides American Idol? Well, if you love hearing about the business of big-time college athletics at work once again, the latest episode of Real Sports with Bryant Gumbel reportedly will feature four former Auburn football players claiming they received thousands of dollars of cash from boosters from a number of schools, according to SPORTSbyBROOKS.
On the newest episode of the HBO show, Chaz Ramsey, Troy Reddick, Stanley McClover and Raven Gray allege they received money as part of a pay-for-play scheme during their time at Auburn.
According to McClover, one of the perks he received while with the Tigers was $4,000 for recording four sacks in a game against Alabama. He also told Real Sports that boosters from Auburn, LSU, Michigan State and Ohio State arranged for him to get money when he was being recruited in 2003. And in at least one instance, it was arranged for the player to receive a sexual service while being recruited by the Buckeyes.
Meanwhile, Ramsey said that Auburn boosters would approach him after games and give as much as $300 to $400. He said that before he arrived at Auburn, a booster gave him spending money during his junior college career.
And according to Reddick, an unnamed former Tigers assistant coach gave him roughly $500 cash in an envelope, which Reddick said he opened while not in the presence of the coach.
All four players attended Auburn while Tommy Tuberville was the head coach.
Is this the case of bitter ex-players trying to get back in the spotlight or just the everyday happenings in the world of college football?
Former Tigers linemen Lee Ziemba and Ryan Pugh have already defended their program on Twitter. And, as of now, the episode of Real Sports hasn't even aired yet. But if these leaked transcripts and multiple allegations are true, Tigers fans may be left longing for more reports of alleged Cecil Newton tapes — because there could be even worse fallout from this situation.
I'd be interested to know what's going through the mind of current head coach Gene Chizik right now, as he was the defensive coordinator of the team when McClover, Reddick and the Tigers went 13-0 in 2004.
• As we already know, Versus will carry the Notre Dame spring game on April 16 at 2 p.m. And CBS College Sports will televise the Navy game on April 22 at 7 p.m.
On Wednesday, ESPN released its schedule of spring football games.
Sat, Apr 2 2:30 p.m. Virginia Cavaliers ESPN
Sun, Apr 3 3:00 p.m. Texas Longhorns ESPN/ESPN3.com
Sat, Apr 9 1:00 p.m. South Carolina Gamecocks ESPN3.com
Sat, Apr 9 4:00 p.m. LSU Tigers ESPN/ESPN3.com
Sat, Apr 9 4:00 p.m. Clemson Tigers ESPN/ESPN3.com
Sat, Apr 9 5:00 p.m. Stanford Cardinal ESPN3.com
Sat, Apr 9 6:00 p.m. Mississippi State Bulldogs ESPN3.com
Sat, Apr 16 1:00 p.m. Georgia Bulldogs ESPN/ESPN3.com
Sat, Apr 16 3:00 p.m. Arkansas Razorbacks ESPN/ESPN3.com
Sat, Apr 16 3:00 p.m. Alabama Crimson Tide ESPNU/ESPN3.com
Sat, Apr 16 3:00 p.m. Auburn Tigers ESPN3.com
Sat, Apr 16 4:00 p.m. Florida State Seminoles ESPN3.com
Sat, Apr 30 4:00 p.m. Oregon Ducks ESPN2/ESPN3.com
• Speaking of schedules, have you checked out BYU's in its first season as an independent? The Cougars have a brutal opening stretch in September: at Ole Miss, at Texas, vs. Utah and vs. Central Florida. I love Bronco Mendenhall, Jake Heaps and Co., but that's a very difficult way to begin a new season.
Email dave.miller@nationalfootballpost.com or follow me on Twitter at Miller_Dave