June 15, 2011 -
Dave Miller
Four-down territory: Wilson in a holding pattern
Let's take a look at what's happening around the nation on this Wednesday morning.
• A few weeks ago I wrote about the dilemma facing former N.C. State quarterback Russell Wilson, who is currently playing minor-league baseball in the Colorado Rockies organization. While no one but him and his closest advisers know for sure what is going through the signal-caller's mind regarding his future athletic plans, Wilson visited Auburn and Wisconsin to discuss a possible transfer into their respective programs. The visit with the Badgers went so smoothly, according to reports, that many felt he already had one foot on the practice field in Madison. However, ESPN's Joe Schad is reporting that not only is Wilson struggling with where to play football but whether to play football at all. If he continues his career on the gridiron, he'd have to give up baseball for the rest of 2011 — and likely a good portion of the signing bonus he received from the Rockies. We knew that the Colorado franchise wouldn't be keen on Wilson continuing his football career, and it's likely that this is playing a major role in his decision. If the Rockies cut ties with him, would Wilson run the risk of trying to catch on with another organization or perhaps try for a career in pro football in 2012 despite not being projected as a legitimate future NFL signal-caller?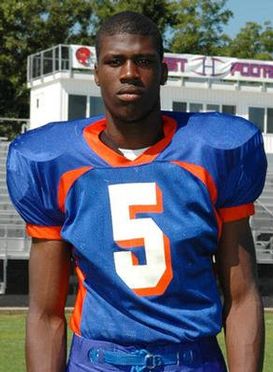 WR Dorial Green-Beckham could have an instant impact wherever he lands.
• How great is the recent recruiting battle between Oklahoma and Missouri? On Tuesday afternoon at the NFP, I discussed the future prospects of Gunner Kiel, one of the top quarterback recruits in the country who has the Sooners and Tigers on his list of finalists. The Sooners already landed one of the top receivers in the country in St. Louis native Durron Neal, who committed to play for the high-powered offense led by new play-caller Josh Heupel. But the Tigers responded by landing a commitment from Evan Boehm on Tuesday. The 6-3, 290-pound Boehm, from a Kansas City suburb, is arguably the top offensive guard in the nation and a player that OU was high on. While there are many more battles on the horizon for these two programs, the biggest battle centers on Springfield, Mo., native Dorial Green-Beckham, the top receiver in the NFP's Class of 2012 rankings. He has visited the Oklahoma and Missouri campuses, and the 6-5, 220-pounder is projected to be an instant playmaker.
• Could former Miami running back Storm Johnson land at Central Florida? According to ESPN's Bruce Feldman, the former Hurricane will visit George O'Leary and Co. beginning on Thursday. Johnson, who already has visited Purdue, is ineligible to transfer to another ACC school or one of the following 15 programs: Alabama, Auburn, Florida, Georgia, Kansas, Kansas State, Louisville, LSU, Mississippi State, Nebraska, Notre Dame, Ohio State, South Carolina, South Florida and Tennessee. Hurricanes head coach Al Golden applied those provisions when he released Johnson from his scholarship. The Georgia native was one of the top running back prospects in the Class of 2010, but it may be difficult to find a home at a major FBS school with Golden's provisions in place. However, he is reportedly appealing that decision.
• Former Florida star cornerback Janoris Jenkins, meanwhile, will not go the route of former Ohio State quarterback Terrelle Pryor and apply for the NFL's supplemental draft. The former Gator told the Orlando Sentinel's Rachel George that he will play for either North Alabama or Valdosta State in 2011. North Alabama has been the frontrunner for awhile now, and it's expected that the lockdown corner will play for former Auburn head coach Terry Bowden.
Email dave.miller@nationalfootballpost.com or follow me on Twitter at Miller_Dave