March 28, 2013 -
Dave Miller
Frazier looks to make a big jump at Auburn
Auburn football was a disaster last season, which is why Gene Chizik is no longer on The Plains.
Enter Gus Malzahn, the former Tigers offensive coordinator who is now the head coach after a one-year stint of being the face of Arkansas State.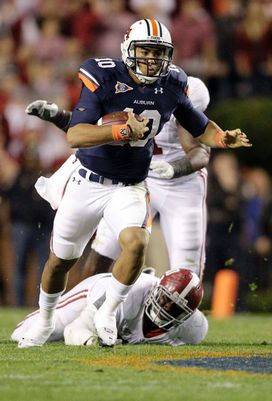 US PRESSWIREKiehl Frazier is looking to beat out Jonathan Wallace for the starting QB job.
While there were a multitude of issues last season for Auburn, no one position symbolized the disappointing season more than quarterback, as neither Kiehl Frazier, Clint Moseley nor Jonathan Wallace could help stabilize then-coordinator Scot Loeffler's offense.
However, without question the major disappointment of the bunch was Frazier, who many thought was ready to make a jump in his sophomore season. But after throwing eight interceptions and just two touchdowns in the first part of the season, he lost his starting gig.
Now, with spring practice opening with a new regime on campus, dual-threats Frazier and true sophomore Jonathan Wallace will be competing for the right to run Malzahn's up-tempo offense. And there's no question that Frazier is determined to put last season's struggles behind him.
While he certainly wasn't the solution last season, Frazier was merely one part of a wholly dysfunctional squad. But bringing back Malzahn's scheme after a one-year hiatus should help Frazier both as a run threat and a passer. And it seems to be overlooked that the 6-2, 226-pounder had great success as a passer in high school, where he completed nearly 65 percent of his throws for nearly 3,000 yards and 42 touchdowns as a senior at Shiloh Christian High School in Springdale, Ark. He added over 1,100 yards and 24 scores on the ground. Operating a system that was very similar to Malzahn's, Frazier was named the USA Today national offensive player of the year.
The most disappointing aspect of his game last season, though, was his pocket presence. He often locked onto receivers and was prone to taking sacks. But in the scheme being installed by Malzahn and offensive coordinator Rhett Lashlee, which Frazier should be able to pick up nicely, the junior should be more comfortable and at ease.
True freshman Jeremy Johnson, junior college transfer Nick Marshall and Jason Smith will arrive on The Plains this summer, but I don't expect much competition from them in the fall if Frazier or Wallace have a strong spring.
And with the new offense fitting his skill set quite well, Frazier should be positioned to re-assert himself as the No. 1 QB following the team's spring game on April 20.