August 25, 2010 -
Dave Miller
Freshmen mutiny at Florida?
Is it just coincidence that Ronald Powell and Dominique Easley missed practice hours after senior Mike Pouncey told the media the freshman class needs to "just shut their mouth and come play" and a day after the pair were chastised at practice for poor play?
Or is there something serious brewing down in Gainesville?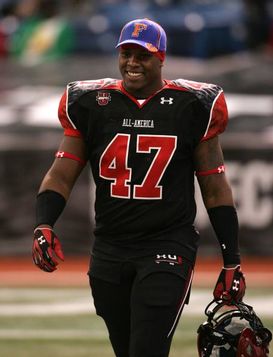 ICONDominique Easley compared himself to NBA star LeBron James.
According to a report, freshmen Powell and Easley skipped practice Tuesday because they were upset with how the coaching staff scolded them during special teams practice Monday.
According to the same report, both players threatened to transfer.
Powell, one of the top recruits from the 2010 class, and Easley, a fellow five-star prospect, are part of a Gators freshman class that has been criticized by some of the veteran players, such as Pouncey, for a perceived cockiness.
Head coach Urban Meyer told the media Monday that he is concerned with the attitude of the first-year players.
"You have 25 young players — or whatever it is — that think they're going to dominate the way they did in high school, and they have no idea what's about to hit them," Meyer said.
At Florida's media day, Easley compared himself, Powell and fellow freshman defensive lineman Sharrif Floyd to LeBron James, Chris Bosh and Dwyane Wade — the star trio of the Miami Heat.
Quarterback John Brantley did his best to calm the storm on Wednesday, telling the media that the veterans and freshmen are indeed getting along just fine.
Where's Superman (No. 15) when you need him?
UPDATE: According to a report in The Gainesville Sun, Powell and Easley were spotted, in uniform, walking onto the practice field for Wednesday's practice.
Follow me on Twitter at Miller_Dave or send your college football questions to dave.miller@nationalfootballpost.com
Click here to purchase the Total Access Pass / Fantasy Draft Guide from the NFP.