September 23, 2013 -
Dave Miller
FSU reportedly trying to stop sale of Winston shirts
Jameis Winston frenzy is very much alive in Tallahassee, but one Seminoles fan may have taken things to an extreme with his "Chosen One" t-shirts that depict the redshirt freshman quarterback as Jesus Christ.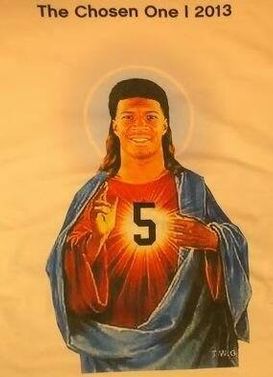 The image on the controversial t-shirt.
And, according to TMZ, Florida State has taken notice of the product, as its athletic department has issued a cease and desist letter to the fan selling the shirts.
Per the report, the fan said that 100 of the shirts were sold for $20 each last weekend. The school wants to avoid any potential NCAA issue by ending sales of the shirt featuring Winston's likeness. While it is not unusual for products such as this shirt to circulate across college campuses or the Internet, this shirt has generated a lot of attention because of the Jesus comparison.
Winston has completed 78.1 percent of his passes for 718 yards and eight touchdowns against one intercepton this season in three contests. His strong start have some believing that he has a chance to follow in the footsteps of Johnny Manziel and win the Heisman Trophy as a freshman.
Dave Miller, the college football editor and writer for the National Football Post, is on Twitter @Miller_Dave.